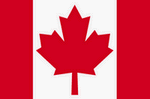 Canada's association with baseball dates back to the nineteenth century, and while ice hockey may well have been the national pastime for many years, baseball has long enjoyed an enthusiastic following, especially in Ontario and the Maritimes. In 1939, the year Canada was drawn into World War II, there were Canadian-based franchises in five minor leagues, and Canadians such as George Selkirk, Jeff Heath,
Joe Krakauskas
, Dick Fowler and Goody Rosen were enjoying success at the major league level.
At Home
The hub of wartime baseball in Canada was Halifax, Nova Scotia. The Halifax Defence League featured teams representing the Navy, Air Force and the Shipyards. The Navy team featured Buddy Heximer, a speedy centerfielder who went on to play minor league baseball; Peaches Ruven, who had previously been with the Montreal Royals; Darrell Ball, a product of the Seattle Rainiers; and Bobby Porter of the Toronto Maple Leafs.
The Air Force team of Halifax was managed by former Cape Breton Colliery League star Art Upper. At his disposal was Chic Charlton, one of the smartest catchers ever produced in the Maritimes, and major league pitcher Phil Marchildon. After losing, 7-0, to the Navy in his first outing, Marchildon settled down and won the next three games, giving up 26 hits and striking out 52 batters in 35 innings.
Canuck Baseball in Britain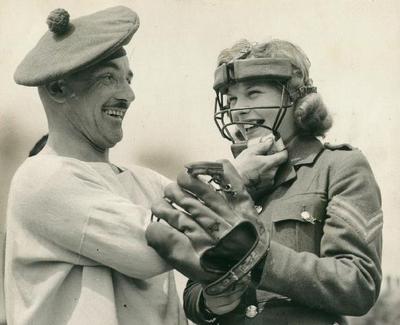 Canadian servicemen began to arrive in Britain in December 1939, and like American GIs two years later, many used baseball and softball to occupy spare time and relieve boredom. Initially, Canadians joined British teams that survived the first couple of years of war, but as more and more British men were drawn into the armed forces to aid the desperate fight against Nazi Germany and the Italians, these teams disappeared.
Because the Canadian forces were widespread throughout Britain, it was logistically impossible for most Canadian teams to compete against each other during these early years, and little more than pick-up games existed until the arrival of the Americans in 1942. Suddenly, there was an abundance of other teams, and clashes between the two North American nations became commonplace.
The first significant meeting occurred at Selhurst Park in London – home of the Crystal Palace soccer team - on July 4, 1942, where a Canadian all-star team was beaten, 19-17, by the USAAF. It was not long, however, before the Canadians found their first success. At Wembley Stadium on August 3, 1942, in front of a crowd of 6,000, Canadian Army Headquarters defeated US Army Headquarters, 5-3. Ed Smith, a renowned amateur-circuit player from Kingston, Ontario, struck out 12 and scattered six hits. Smith's father, Frank, was manager of the Kingston Ponies, a successful amateur team back home. Smith played in baseball and softball leagues in Kingston and was renowned for his pitching and power-hitting skills. Furthermore, the game raised the equivalent of $3,800 for the British Red Cross although, interestingly, the only balls available for the event were stamped "Made in Japan."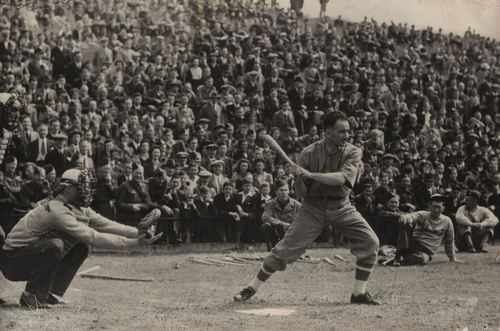 Pete Giovanella at bat for Canada on July 4, 1942.
The following year the Canadian forces had two entries in the showcase London International Baseball League. The Canadian Military Headquarters (CMHQ) team featured Pete Giovanella, a semi-pro shortstop from Kirkland Lake, Ontario, who had played for the Toburn Gold Mines team, and Ed Smith who had pitched the Canadians to victory at Wembley Stadium the year before. The First Canadian General Hospital team, with the pitching support of Leo Curtis, an American who joined the Canadian forces at the outbreak of war, and third baseman Ted Brooks, a former Evangeline League infielder, reached the season's first half play-offs in June 1943. They were unable to suppress the powerful US Signal Corps Monarchs, however. After being narrowly defeated, 4-2, in the first game of the three game series, they were beaten in the second game, 14-0.
In 1944, a Canadian team added another victory against the United States. Before 18,000 fans at Wembley Stadium on June 3, the CMHQ softball team defeated the US Army's Central Base Section Senators, 4-1, in a thrilling game that was decided by Ed Smith's two-out grand slam homer in the last inning.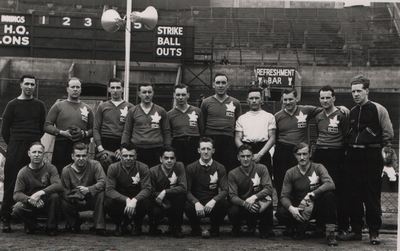 The CMHQ softball team that beat the US Army
at Wembley Stadium in 1944.
The Canadian Army also had a team in the Midlands League in 1944. A powerful squad, they reached the league playoffs in September where they were defeated by the US Army's 10th Replacement Depot. The 1944 Canadian Army (England) champions were No 1 Canadian Army Reinforcement Unit (CARU).
Serving in Britain in 1944 was Philadelphia Athletics' pitcher Phil Marchildon. Stationed in Yorkshire with 433 Squadron of the Royal Canadian Air Force, Marchildon served as a tail-gunner in a Handley-Page Halifax III bomber. Active duty offered little time for Marchildon to play baseball, but his brother-in-law, Adam McKenzie, who played for the DeHavilland Comets – a team made up of Canadian employees of the DeHavilland aviation company - persuaded him to make a handful of appearances for the team. "I only played a few games over there and was not in very good condition to do so," he later recalled. His first outing against an unsuspecting US Army team, however, tells a different story. In his autobiography, Ace, co-written with Brian Kendall, Marchildon recounted how he threw three strikes right by the first batter. "The poor guy hadn't lifted his bat off his shoulder." The strikeouts continued and one by one the American batters returned to the bench in bewilderment until McKenzie finally revealed, "That's Phil Marchildon of the Philadelphia Athletics!"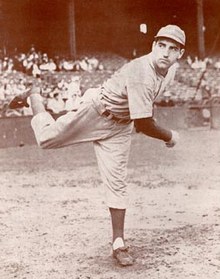 During the night of August 16, 1944, Marchildon flew his 26th night-time mission against Nazi targets – he was four away from going home. As the bomber flew through the darkness above the Baltic Sea, it was attacked and set ablaze by a German fighter. The bomber's pilot immediately gave orders for the crew to bail out – only the navigator and Marchildon survived. Stranded in the icy water, both crew members were eventually picked up by a Danish fishing boat and handed over to the German authorities. Marchildon spent the following year at Stalag Luft III, and by the time he was liberated, he was severely malnourished and had lost 30 pounds. Following his traumatic experiences, Marchildon initially had no interest in returning to baseball, he was suffering recurring nightmares and his nerves were in tatters. But the persistent Athletics' owner, Connie Mack, eventually talked his Canadian star into coming back, and by 1947, Marchildon had regained his pre-war form, winning a career-high 19 games.

Not all Canadian ballplayers that served with the armed forces in WWII were fortunate enough to return home. Don Stewart, an outfielder who played briefly with Vancouver in the Pacific Coast League and umpired in the Western International League, was killed during a German bombing raid on Scotland in March 1941. George Atkinson, a pitcher with Port Rowan (Ontario) of the Tobacco Belt League, lost his life during the fighting at Sicily in August 1943. Harold German, an excellent all-around athlete from Pilot Mound, Manitoba, was shot down and killed during a bombing raid in October 1943. Herman Jonasson, a pitcher from Baldur, Manitoba was also shot down and killed in February 1944. George Dean, shortstop with the Pine Falls (Manitoba) Rovers, piloted a Douglas Boston III that failed to return to its base in Italy after a bombing mission in February 1944. In April 1944, Charles Weatherby, a first baseman with St Croixs (New Brunswick) was killed when his bomber was shot down over France. Don Norton, an outstanding athlete and ballplayer also with the St Croixs team, lost his life when his bomber was shot down in June 1944. Mike Moroz, who played for the Transcona Trojans in Manitoba was killed when his armoured car was destroyed in Normandy in August 1944. Basil Smith, a first baseman with the Delhi Tobaccomen in Ontario was killed in action in Italy in September 1944. In November 1944, Albin Sumara, a pitcher with the Springhill (Nova Scotia) Fencebusters was killed in action in Belgium. Arthur Judges, who played baseball in Parry Sound, Ontario, was killed in action in Holland in December 1944. Robert Dubeau, a baseball and hockey player from Penentangusiehene, Ontario, lost his life in January 1945 when his Halifax bomber crashed in Yorkshire, England. Roger Carroll, who was with the Brantford Red Sox of the Senior Intercounty Baseball League in Ontario, was killed during a mortar attack in Germany on March 8, 1945. Stan Reid, an excellent baseball player at Stamford Collegiate Institute in Niagara Falls, Ontario, was shot down and killed that same month, as was Don Ross, who played baseball in Toronto with the Webber's team. Thornton Doig, a well-known ballplayer from Toronto was killed in an accident in Holland in June 1945.
Canadian Big Leaguers in Service

Roland Gladu had played minor league baseball in the United States and Canada before the war. He had even played pro ball in England in the late 1930s. In 1942 he joined the Canadian Army and served a year in Quebec. He went on to play briefly with the Boston Braves in 1944.

Joe Krakauskas, who was 11-17 with the Senators in 1939, served as a radio mechanic with a night fighter squadron in England. Before leaving for overseas, he pitched briefly for the Halifax Navy team, giving up 11 hits and seven runs in eight innings.

Phil Marchildon served as a tail gunner with 433 Squadron in England. During the night of August 16, 1944, Flying Officer Marchildon's bomber was shot down by a German night fighter. He spent the following year at Stalag Luft II, and by the time he was liberated, he was severely malnourished and had lost 30 pounds.

Dick Fowler served with the Army in Canada but was assigned to duties as a postal clerk following a leg injury. Chronic sinus trouble led to his discharge before going overseas.

Following the German surrender in May 1945, Canadian military baseball in Britain began in June, when No 1 Canadian Central Ordnance Depot at Peper Harrow, Surrey, played host to a USAAF 8th Air Force team for "North America Day." Watched by 1,500 Canadian and American sports fans, the Americans won 2-0. Bob Srigley of Windsor, Ontario allowed the Americans five hits. Gene Lynch of Long Island, New York allowed just three.
On June 26, 1945 the Canadian Army England Sports Committee of the Auxiliary Services under the chairmanship of Brigadier J E Sager announced an extensive summer program of sports. "For five years we have been conditioning these men for war. Now we've got to condition them in how to live, how to relax and enjoy themselves," explained Brigadier Sager to The Maple Leaf on June 25, 1945.
"All personnel of the Canadian Army," wrote Louis Fusk in The Maple Leaf on June 26, 1945, "including transients of repat depots, are encouraged to compete in these sports."
The Canadian Army England Baseball League began on June 26, 1945 with No 1 CBW scoring a 7-2 victory over 1 CCOD. 1,500 spectators watched 1 CBW's first baseman Polly Drouin slam out four hits in five trips to the plate.
On July 4, 1945 – Dominion Day – No 1 CCOD hurler, Jake Edwards of Kingston, Ontario pitched a no-hitter, beating 5 CITR 2-0.
No 2 CGRU set a hot pace for the league during July, winning six straight. Bill Prior hurled the sixth victory with a 4-0 decision over No 9 Provost. Prior allowed four hits and struck out 11.
By July 16, 1945 the league's leading batter was R Bischell of 1 CBW who was hitting .571, followed by Charlie Pyle of 2 CGRU and Brinley of 1 CGRU both hitting .500. Polly Drouin of 1 CBW led the slugging honors with one homer, one triple and three doubles. He was batting .480. Pyle, an all-round athlete who competes in track and field, a welterweight boxing champ, and softball player.
On July 13, No 1 CCOD pulled off what might have been the only wartime triple play in England against the 988th MP Fliers who were visiting from their base in St Germain, France. It happened in the fourth inning when the Fliers had the bases loaded with none out. Bob Froelich hit a line drive to third baseman Johnny Sefton who snared the ball, touched third before the runner could scramble back and then whipped the ball over to first base to Tommy Marshall for the third out. 1 CCOD won the game 2-0.
Meanwhile baseball was being played by RCAF personnel in Torquay area where the RCAF repatriation depot was located. With the camp divided into three sites, with a three team league. Exhibition games are arranged against nearby American camps.
No 2 CGRU won the first half of the Canadian Army (England) Baseball League. Herbie Dalton, 2 CGRU's third baseman was the batting champ at .465 and stole 19 bases. Jim Donald of 1 CCOD and Charlie Pyle of 2 CGRU tied at .432.
First half standings:
| | | | |
| --- | --- | --- | --- |
| Team | Won | Lost | Pct |
| 2 CGRU | 6 | 0 | 1.000 |
| 1 CBW | 4 | 1 | .800 |
| 1 CCOD | 5 | 2 | .714 |
| 2 CITR | 2 | 1 | .667 |
| 5 Repat | 3 | 3 | .500 |
| 1 CITR | 1 | 1 | .500 |
| 1 CGRU | 2 | 3 | .400 |
| RCASC | 2 | 4 | .333 |
| 9 Provost | 2 | 4 | .333 |
| 5 CITR | 1 | 2 | .333 |
| 3 CITR | 1 | 2 | .333 |
| 4 CITR | 1 | 3 | .250 |
| 5 CGRU | 1 | 4 | .200 |
| 1 Sub W/S | 0 | 1 | .000 |
By September 1, No 10 Repat led the league with a 6 and 0 record. Followed by No 1 CGRU at 4-0.
On Sept 8 and end of second half standings looked like this:
| | | | |
| --- | --- | --- | --- |
| Team | Won | Lost | Pct |
| 2 CGRU | 6 | 0 | 1.000 |
| 10 Repat | 8 | 1 | .888 |
| 1 CGRU | 6 | 1 | .859 |
| 1 CCOD | 6 | 1 | .859 |
| 9 Repat | 5 | 2 | .714 |
| 5 Repat | 6 | 3 | .666 |
| 1 Admin Transport | 5 | 5 | .500 |
| 4 CITR | 3 | 6 | .333 |
| 1 SWS | 2 | 7 | .222 |
| 11 Repat | 1 | 6 | .166 |
| 1 CBW | 1 | 9 | .100 |
| 1 COMERU | 1 | 9 | .100 |
Eight teams went into the playoffs: 1 Admin Transport, 2 CGRU, 9 Repat, 1 CCOD, 5 Repat, 10 Repat, 1 CGRU, 1 CBW.
In the semi-finals, 10 Repat beat 1 CCOD. In the top of the 11th, Biboult of 1 CCOD scored, but Herschen-Hatter and Cecile both scored for 10 Repat to clinch the game 2-1. The other semi-final was between 1 CBW and 1 CGRU. 1 CGRU won the first game then Leo Blondin pitched 1 CBW to 6-4 victory in second game of three. 2 CGRU went on to win game three and clinch the series.
The finals, between 10 Repat Depot and 2 CGRU, were held at Farnborough and Borden. 10 Repat led 2 games to 1 in finals, but on October 30, Wilf Beaulieu scored two runs and Bill Prior pitched a great game to win 2-1 in the fourth game and even the series. However, 10 Repat went on to win the fifth and deciding game.
"A three-run rally in the second game won the Canadian Army England Baseball championship for 10 Repat Depot yesterday afternoon at Aldershot. Over 3,500 soldiers thronged the baselines to see the Repatters dethrone last year's titleholders, 2 CGRU, in a match that ran the gamut of thrills. 10 Repat won the first two games of the series, lost the next, and finished it off with yesterday's win.
Both teams had to toss in extra pitchers during the game. Bill Prior, of 2 CGRU, was sent to the showers during the second inning rally, and Herbie Hess took the mound. In the sixth frame with the score tied up, Cy Bertrand was sent in to replace "Monty" Montenari for 10 Repat.
Dennis Cecile, 10 Repat catcher, started their rally in the second inning with a single. "Hank" Withy, "Cam" Camless and Sam Marino followed with hits that netted the three runs necessary to win them the title. Wilf Beaulieu's single brought in Babe Gresko for CGRU's first run, with Charlie Pyle scoring the second on Bill Hershon's hit in the sixth."
The Maple Leaf Nov 1, 1945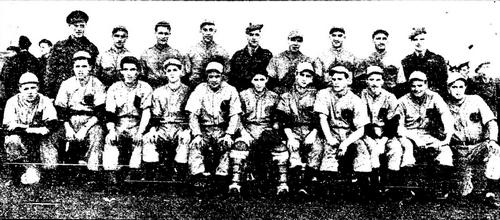 10 Repat Depot, winners of the 1945 Canadian Army (England) Baseball League.
Front row, left to right: Pvt F Marino, Lt. K Cooke, Sgt A Huchensatter, Pvt L Kennedy, Pvt D Cecile, Cpl H Withey, Cpl E Bingham, Pvt E Miller, Lt J Scandrett, Lt L Cumliss, Pvt R Gordon and Pvt Montenau. Back row, lft to right, unknown, Pvt C Bertrand, Pvt F Bradd, Pvt M McQuade, Sgt J McKelvie (coach), Cptn G R Blackadder, Spr J Jacks and unknown.
Reflecting on the success of the league in The Maple Leaf on October 19, 1945, the newspaper wrote: "The league fulfilled its aims this summer. Games twice weekly, marked by keen rivalry among the repat and static units, brought the boys plenty of baseball. It enabled the players to sharpen up their hitting and fielding before returning home.
"To chief sports supervisor Hal Brown and his crew of Auxilliary Service officers goes considerable credit for their organization of baseball and other sports for the troops this summer. They went to work even before VE-Day preparing for the months when the soldier, finished with war, would seek other fields for his energy and amusement."
Canuck Baseball in Europe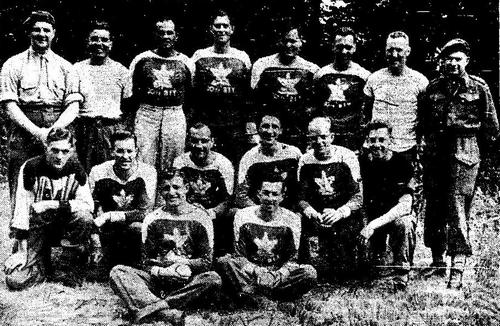 30th Battery Bombers softball team 1945. Front row, left to right: L/Bdr Stan Sidthorpe and Bdr Johnny Kozachenko. Middle row, left to right: Gnr Carl Gordoneer, Gnr Doug Ritchie, Bdr Spencer Evans, Sgt Buck Houle, Sgt Johnny Krycia and Bdr Fred Marchant, Back row, left to right: Lt W Tafts (battery sports officer), Cliff King (coach and captain), Gnr "Nozzy" Atanasoff, Gnr Bruce Ferguson, BSM Don Mackenzie, Bdr Jack Williams, Gnr Red Hewitt and Cptn Bill Leak (regimental sports officer).
On the European continent, softball was the main game of Canadian servicemen. The 30th Battery Bombers of the 6th Light Anti-Aircraft Regiment in Belgium set all kinds of records with 110 wins in 114 games. The 2nd Canadian Advanced Base Workshop team settled for a draw after 18 scoreless innings against an American service team in Antwerp. Chuck Wilde, pitching for the Canadians, struck out 24 and went the distance. Queen's Own Rifles, behind the pitching of Arthur Maynard, clinched the Canadian Armed Forces softball championship title by beating 2 CGRU, 3-0, before 6,000 fans in Utrecht, Holland on October 3, 1945.
Baseball did occur on the continent in the form of exhibition games, and on September 6, 1945, the powerful US Army 29th Infantry Division team defeated the 2nd Canadian Division All-Stars, 5-0, before a crowd of 8,000 at Soesterberg Airfield in Holland.
Canuck Baseball in India
But Canadian servicemen were not limited to bringing baseball to Europe. Wing Commander G N Parrish of Listowel, Ontario, who played baseball before the war at Listowel Collegiate, introduced the game in India. "I found a dozen Canadians on the squadron," the Simcoe Reformer reported on June 15, 1944, "and have persuaded even Australians and British crews to get in the game."
And finally…
Despite Canadian baseball never reaching the high profiles that US military baseball achieved during World War II, it still served as a significant morale booster for many and is recalled, with fond memories, by many veterans.
Canadian Player Biographies on Baseball in Wartime
| | | | |
| --- | --- | --- | --- |
| Name | Experience | Service | Location |
| | | | |
| --- | --- | --- | --- |
| Dick Fowler | Major League | Canadian Army | Canada |
| | Major League | Canadian Army | Canada |
| | Major League | RCAF | ETO |
| | Major League | RCAF | ETO |
| | | | |
| --- | --- | --- | --- |
| | Minor League | Canadian Army | ETO |
Those Who Died That Others Might Be Free
| | | | | |
| --- | --- | --- | --- | --- |
| Name | Experience | Service | Location | Date |
| | | | | |
| --- | --- | --- | --- | --- |
| | Minor League | Canadian Army | ETO | March 13, 1941 |
| | | | | |
| --- | --- | --- | --- | --- |
| | Amateur | Canadian Army | ETO | August 9, 1944 |
| Don Norton | Amateur | RCAF | ETO | June 8, 1944 |
| Con Radocy | Amateur | Canadian Army | ETO | July 28, 1944 |
| Stan Reid | Amateur | RCAF | ETO | March 5, 1945 |
| Don Ross | Amateur | RCAF | ETO | March 5, 1945 |
| Basil Smith | Amateur | Canadian Army | MTO | September 13, 1944 |
| | Amateur | Canadian Army | ETO | November 1, 1944 |
| Charles Weatherby | Amateur | RCAF | ETO | April 11, 1944 |
| Mike Zima | Amateur | Canadian Army | ETO | August 19, 1942 |
Created April 30, 2007. Updated April 26, 2008.
Copyright © 2021 Gary Bedingfield (Baseball in Wartime). All Rights Reserved.