Roland Gladu
Date and Place of Birth: May 10, 1911 Montreal, Quebec Canada
Died: July 26, 1994 Montreal, Quebec Canada
Baseball Experience: Major League
Position: Third Base/Outfield
Rank: Unknown
Military Unit: Royal Canadian Army
Area Served: Canada
Major League Stats: Roland Gladu on Baseball-Almanac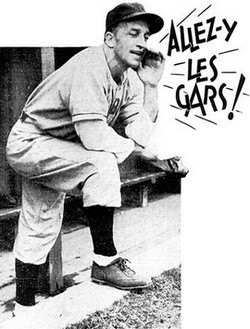 Roland A Gladu was born in Montreal, Quebec in Canada on May 10, 1911. The French-speaking Quebecois first began making a name for himself at 17 with a semi-pro team in Granby, Quebec that was organized by future Granby mayor, Homer Cabana.
The following year Gladu signed with Binghamton in the Eastern League but was released after three weeks. He then signed with the Johnstown Johnnies of the Middle Atlantic League but again was released. This was probably not a reflection of his ability to play baseball as much as a language barrier between Gladu's native French tongue and his English-speaking teammates and manager.
Gladu then returned to Canada and played with the tobacco-sponsored Forest Frères team of Montreal. In 1930, Gladu attended a Montreal Royals' open practice. He impressed the minor league team and was signed but didn't play for the club until 1932, when he had four hits in 17 at-bats. The following spring Gladu was released.
In 1934 he was playing for the Richmond Colts in the Piedmont League and batted .283. With the formation of the Quebec Provincial League in 1935, Gladu returned to Canada and joined Lachine.
In 1936, Gladu accepted a somewhat unusual offer to play baseball in Great Britain. Enticed by L D Wood, owner of the West Ham baseball team in the newly formed London Major Baseball League, Gladu was manager and captain of the Hammers and quickly became known in England as the "Babe Ruth of Canada."
On August 28, 1936, Gladu led the West Ham team to a 5-3 shock win over the US Olympic baseball team, Gladu contributing two hits.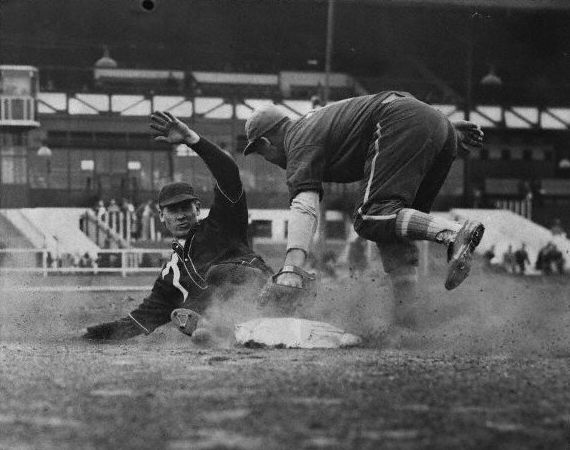 Roland Gladu lays a tag on Sam Hanna of the Pirates during a London Major Baseball League in England in 1936.
The following year Gladu batted a whopping .565 with West Ham. He returned to Canada in 1938 and following a brief stint with the Montreal Royals he went back to play for the Quebec Athletics in the Quebec Provincial League. In 1940, the Quebec Provincial League became a Class B league within the Organized Baseball structure although that status would last just one season.

In 1941, the Quebec Athletics joined the Canadian-American League and Gladu played under manager Del Bissonette. He also took over as manager when Bissonette left the club in mid-season.
In the winter of 1942, Gladu enlisted in the Canadian Army. His baseball skills soon saw him utilized as player-manager of the Garrison Club in a city league in Quebec where he played centerfield. After one year of service, Gladu was discharged from the army in the winter of 1943.
He contacted Del Bissonette, who was managing the Boston Braves' Hartford club in the Eastern League at the beginning of 1944. Invited to spring training he so impressed Braves' manager Bob Coleman that he opened the season at third base for Boston. Coincidentally, his hockey-playing cousin, Paul Gladu played his NHL rookie season with the Boston Bruins in 1944. Paul Gladu later played for the St Louis Flyers and the Providence Reds in the AHL.
Gladu made his major league debut, aged 32, with the Braves on opening day, April 18, 1944, against the New York Giants, losing 2-1. He had been hit in the eye during fielding practice and had to spend the batting practice period in the clubhouse with an icepack on an egg-sized lump. Without batting practice or pre-game drill, he hit a triple in four trips to the plate and had one putout and two assists to his credit. He also made a sensational one-handed diving catch.
But despite Gladu's fielding heroics in his debut, it was to be his defensive weaknesses that would see him return to the minors a month later. Gladu played a total of 21 games and batted .242, committing five errors before being replaced at third by Damon Phillips and joining Hartford. Gladu tore up the Eastern League, batting .372 in 116 games with 102 RBIs.
In December 1944, the Montreal Royals wanted their hard-hitting home boy back. They paid Hartford $10,000 for his services. Gladu responded by stroking the most hits ever by a Montreal batter. His .341 average was second best in the league, while his 205 hits, 48 doubles and 15 triples were league leaders. Gladu also finished third in balloting for the International League most valuable player award.
On September 26, 1945, Gladu was selected by the Brooklyn Dodgers and was expected to join them for spring training in 1946. During the winter of 1945, Gladu kept his hitting in tune by playing with the Cienfuegos Elephants in the Cuban Winter League. A ritual he would maintain for the next two years.
In the spring of 1946, Gladu was again enticed by an offer from foreign shores, leaving the Brooklyn Dodgers and jumping to Jorge Pasquel's Mexican League after an offer of $25,000 for the three years.
Despite the knowledge that it could mean a five year ban from Organized Baseball, Gladu played in Mexico in 1946 and 1947 for the San Luis Potosi team. In May 1946, he was officially placed on a five-year ineligible list.
In 1947, Gladu hit .322 for fifth best in the Mexican League, but the league
was falling apart and he returned to Canada to play in the Provincial League in 1948. Gladu served as manager of Sherbrooke and won the league championship that year. He remained there until 1951 when the team's stadium burnt down and was forced to leave the league.
Aged 41, Gladu was with Thetford Mines in the Laurentian League as a player-manager in 1952 and batted .394. He retired after that season and started working as a scout for the Cleveland Indians. Tragedy struck the Gladu family in September 1953, when his son, Roger, died aged 4. Roger had been ill since birth.
In 1955, Gladu returned to the Braves organization as a scout and remained in that role through the 1960s.
Roland Gladu passed away on July 26, 1994 in his hometown of Montreal. He was 83 years old.
Some of the information contained in this biography was obtained from British Baseball and the West Ham Club by Josh Chetwynd and Brian A Belton (2007 McFarland Publishing).
Created March 26, 2007.
Copyright © 2015 Gary Bedingfield (Baseball in Wartime). All Rights Reserved.