Joe Krakauskas
Date and Place of Birth: March 28, 1915 Montreal, Quebec Canada
Died: July 8, 1960 Hamilton, Ontario Canada
Baseball Experience: Major League
Position: Pitcher
Rank: Leading Aircraftman
Military Unit: Royal Canadian Air Force
Area Served: European Theater of Operations
Joe Krakauskas, of Hamilton, Ontario, is in Britain as a radio mechanic and on fire to play ball. "And I don't mean soft ball," he declared. Joe, the former American League pitcher with the Cleveland Indians and the Washington Senators, was in the largest group of Royal Canadian Air Force personnel ever to be dispatched overseas and which landed recently at a British port.
Associated Press July 3, 1943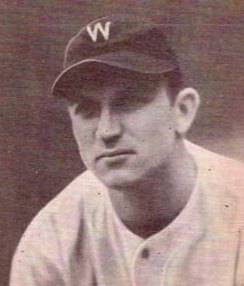 Joseph V L "Joe" Krakauskas was born in Montreal, Quebec on March 28, 1915. He grew up in Hamilton, Ontario, attended Cathedral High School and rose to prominence in the senior OBAA which was one of the strongest amateur organizations in Canada.
In 1935, the 6-foot 1-inch 200-pound lefthander was pitching for the Brantford Red Sox of the amateur Ontario Intercounty League when he was signed by the Washington Senators and joined the Albany Senators of the International League at the end of the season.
He pitched for Brockville of the Canadian-American League in 1936 and hurled a 16 strike-out no-hitter against Oswego on June 14.
By 1937, Krakauskas was picthing for the Trenton Senators in the Eastern League with a league-leading 184 strikeouts.
Blessed with blazing speed but control problems, 1937 saw him with the Syracuse Chiefs in the International League, and he joined the Washington Senators in September – one of the few Canadians in the major leagues. In his debut against the Philadelphia Athletics on September 9, 1937, Krakauskas gave up one hit in a seven-inning relief performance. On September 28, the young Canadian threw a 7-hitter against Yankees, winning 2-1. Krakauskas finished 1937 with four wins and one loss in five appearances for the Senators.
In 1938, he was 7-5 as both a starter and reliever. In 1939, his 11-17 record in 39 appearances gave him the second most wins on a Washington team that finished sixth in the American League.
When Canada entered World War II in September 1939, Krakauskas made an application for American citizenship. "Ever since I have been in organized baseball," he explained, "I have intended to become an American citizen. I may be drafted by Canada but I do not plan to enlist."
In 1940, Krakauskas dropped to 1-6 in mainly a relief role with an inflated ERA of 6.44. On Christmas Eve 1940, Krakauskas was traded to the Indians for Ben Chapman. He split the season between Syracuse in the International League and the Indians.
Krakauskas made three relief appearances for the Indians at the beginning of the 1942 season before joining the Baltimore Orioles of the International League. He remained with Baltimore until June 13, when he pitched his final game – four inning against Rochester – and left the following day for military service.
Krakauskas returned to Canada for his military service with the Royal Canadian Air Force. He was based at Halifax, Nova Scotia and began playing baseball for Stratford of the Ontario Inter-County League in 1943. In June 1943, he began pitching for Halifax RCAF, losing 7-2 to Halifax Navy in his first outing. His stay in Halifax, however, was short lived, in July 1943, he left for England where Leading Aircraftman Krakauskas served as a radio mechanic with a night fighter squadron.
Krakauskas returned to the Indians in 1946. He was 31 years old and had missed three and a half seasons of organized baseball. Krakauskas made 29 appearances for the Indians, mainly in relief, posting a 2-5 record and a 5.51 earned run average.
In December 1946, Krakauskas was sold to the Hollywood Stars of the Pacific Coast League, where he continued to pitch until 1948.
Following his baseball career, Krakauskas returned to Hamilton where he worked as a car salesman for Queenston Motors.
Joe Krakauskas, suffering from pneumonia, passed away on July 8, 1960 in Hamilton, Ontario. He was just 45 years old and is buried at Holy Sepulchre Cemetery in Burlington, Ontario.
Created March 17, 2007. Updated January 28, 2008.
Copyright © 2015 Gary Bedingfield (Baseball in Wartime). All Rights Reserved.