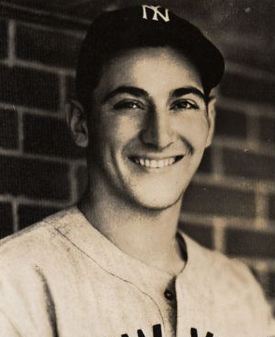 Marius U Russo was born on July 19, 1914 in Brooklyn, New York. The Long Island University graduate was pitching for the semi-pro Brooklyn Bushwicks when he signed with the New York Yankees in 1937.
In his rookie season with Newark of the International League, the left-hander was 8-8 in 27 appearances with a 3.63 ERA. Then, in 1938, he began attracting favorable attention with a 17-8 record and 3.15 ERA for Newark, following that with a 1.97 ERA over his first 10 appearances in 1939. The Yankees called up the 24-year-old in June 1939 and he made his major league debut on June 6 against the Tigers. Russo finished the year with an impressive 8-3 record and 2.41 ERA.
In 1940, he was 14-8 with the Yankees and was 14-10 in 1941 as well as being an American League all-star selection. In Game 3 of the 1941 World Series, Russo and the Dodgers right-hander Freddie Fitzsimmons were in a scoreless duel through six innings at Ebbets Field. With two outs in the seventh and Joe Gordon on second, Russo, who batted .231 that season, smashed a liner that caromed high off Fitzsimmons's left knee. The ball was caught by shortstop Pee Wee Reese, retiring Russo, but Fitzsimmons incurred a broken knee.
Hugh Casey, replacing Fitzsimmons, gave up four straight singles in the eighth as the Yankees scored twice and went on to a 2-1 victory behind Russo's four-hit complete game.
Suffering from a sore shoulder, Russo made just nine appearances for the Yankees in 1942 for a 4-1 record and 2.78 ERA. He pitched in 24 games in 1943, but was 5-10 – the only Yankee pitcher that year to have a losing record. However, he hurled a seven-hit shutout in the fourth game of the World Series against the Cardinals.
After 1943 season, Russo worked as an expediter in the Republic Airplane Works at Farmingdale, New York. His draft board in Ozone Park announced that because of this he would be deferred from military service but should he choose to join the Yankees in 1944 he would be re-classified 1-A. Russo never got the chance to find out if this was the case as he was called to service anyway on February 20, 1944.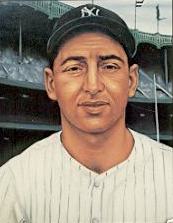 He reported to Camp Upton, New York before being assigned in April to Camp Wood - part of the US Army's Signal Corps facilities at Fort Monmouth, New Jersey. Private Russo had the opportunity to play baseball on a regular basis at Fort Monmouth, both with the Camp Wood team and the Fort Monmouth All-Stars. On one occasion, he pitched three innings of relief in a night game and then went the distance the following day in a 6-5 win against the strong Hotel New Yorker team.

"The guy has lived up to his press notices," declared Corporal Norman K Evans, sports editor of Fort Monmouth's Signal Corps Message on June 23, 1944. "In 24 innings of pitching as a Signalman, Marius Russo has allowed but three singles, two of which were of the tainted variety. Not even the semblance of a run has been garnered off the talented southpaw. But more than just mechanical perfection has made him one of the most popular big leaguers in the service. The games in the Signal Corps Diamond League are as important to Russo as the World Series games last October. He offers his sound baseball knowledge to the young hurlers on the staff. He runs out every grounder when he's at the plate. He is strictly a team player. Off the field, the ex-Yank is modest and shy. Just another slightly homesick recruit."

When he wasn't scheduled to pitch, Russo played the outfield or first base, giving him the opportunity to demonstrate his defensive prowess. "The greatest catch of the year," reported the Signal Corp Message on July 14, 1944, "highlighted Camp Wood's 5-0 shutout of the rampant Station Complement nine.

"Roy Tarr met one of Hank Soven's curves with the meat end of the bat and sent the ball sailing high and far over the center fielder's head. With the crack of the bat, Marius Russo turned and streaked for the tent area. About a mile and a half out, he turned slightly and pulled down the ball with his gloved hand. Few of the lucky spectators have ever seen a more sensational catch."

Russo was no slouch at the plate either. Following his sensational catch, he strode to the plate and sent a mighty drive between the outfielders, crossing home plate standing up.

On June 6, 1944, when all major league games were called off on account of the D-Day invasion, Russo played first base for the Signal Corps All-Stars at Camp Wood, New Jersey against the Boston Braves. Russo collected two hits but the Braves won 5-4.

On June 9, he pitched a 9-0 one-hitter against the Lakehurst Naval Air Station. Then, on June 17, he pitched for the Fort Monmouth All-Stars against Sam Nahem's Fort Totten AAA Command in the All-Star Carnival at the Polo Grounds that raised funds for the Fifth War Loan campaign. He allowed just one infield hit in the three innings he pitched.

Russo left Fort Monmouth for assignment to Camp Crowder, Missouri at the end of July 1944. "Marius Russo's transfer to Camp Crowder was a tough blow to the Fort Monmouth All-Stars," declared Corporal Evans in the Signal Corps Message on July 28, 1944. It isn't only his pitching that will be missed, (he is one of the top hurlers in the service) but Russo on a ball team is a terrific competitor. When he wasn't on the hill, he was at first base or in the outfield and he played every position in big league style. At the plate he batted around .350 for the season. He never played down to a team, instead he tried to bring it up to his level. We're going to miss the big southpaw, especially with some of our toughest games coming up. It was nice having him here, even for a short while. Good luck, Marius, see you at the Yankee Stadium some day and we'll be tickled to pay our dollar-ten."

At Camp Crowder, Russo continued to play all out. On September 17, he combined with Charley Suche and Tommy Bridges to throw a 6-0 no-hitter against the Sheffield Steels at Kansas City, Missouri. Russo worked the first four innings and struck out seven.

By the end of the year, he was overseas in Hawaii, serving as an athletic director with the Signal Corps. In May 1945, he had an operation on his elbow following the discovery of bone chips but hoped to make a full recovery at the time.

Corporal Russo was discharged from service on January 15, 1946. He immediately joined the Yankees and just as quickly was rushed to hospital for further elbow surgery. He made just eight appearances for the Yankees that season and was 0-2 with a 4.34 ERA. By 1947, Russo was back in the minors with Newark and Kansas City. He ended his career with Seattle of the Pacific Coast League in 1948.

Marius Russo, who was later an executive with Grumman Aircraft on Long Island, passed away on March 26, 2005 in Fort Myers, Florida. He was 90.

Thanks to Melissa Ziobro of the CECOM LCMC Historical Office at Forth Monmouth for help with information for this biography.
Created April 14, 2008. Updated April 21, 2008.