Go on, why not sponsor this page for $5.00 and have your own message appear in this space.


Click here for details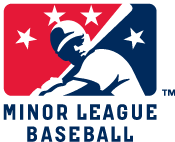 Hugh Gustafson
Date and Place of Birth: February 8, 1915 Hibbing, Minnesota
Last Known Address: Winnipeg, Manitoba
Baseball Experience: Minor League
Position: First Base
Rank: Staff Sergeant
Military Unit: Medical Unit, 409th Bomb Squadron, 93rd Bomb Group USAAF
Area Served: European Theater of Operations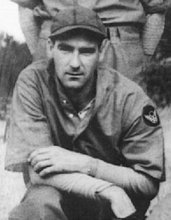 Hugh E Gustafson was born on February 8, 1915 in Hibbing, Minnesota but was raised by his parents in Winnipeg, Canada. Gustafson was a star athlete as a youth, playing baseball and hockey, as well as earning a reputation as an outstanding football player with the Deer Lodge Juniors. Gustafson played alongside Jeff Nicklin on the Deer Lodge team in 1933. Nicklin later played football with the Winnipeg Blue Bombers and, as a lieutenant-colonel with the 1st Canadian Parachute Battalion, was killed in action while leading his men in an airborne landing east of the Rhine on March 24, 1945.
After playing baseball on the sandlots of Winnipeg, Gustafson signed with the Winnipeg Maroons of the Northern League in 1936. In 124 games he batted .265 with 6 home runs. The following year he batted .300 with the Maroons and raised his average to .323 as the Maroons first baseman in 1938. In 1939, his fourth year with the team, he batted an exceptional .367 with 11 home runs and 106 RBIs, and was voted the Northern League's Most Valuable Player, receiving the Linus Ebnet Trophy. Furthermore, his .993 fielding average among first basemen remained a league record until 1952.
In 1940, he moved up to the Madison Blues of the Class B Three-I League where he continued to hit well, batting .308 in 123 games. Gustafson began the 1941 season with the Milwaukee Brewers of the Class AA American Association, but after hitting just .118 in 14 games he rejoined Madison where he batted .264 for the year.
But Gustafson wasn't only playing professional baseball during these years. In 1936, he joined the Philadelphia Ramblers of the International-American Hockey League as the team's center and remained with them through 1939-1940 season. The following year he signed with Pittsburgh Hornets of the American Hockey League and was with the Providence Reds of the same league in 1941-1942.
Gustafson entered military service at Fort Sheridan, Illinois on January 21, 1942. He was sent to Barksdale Field, Louisiana, with the Army Air Force, where there were six bowling alleys, four basketball courts and all the athletic equipment you could wish for. "We even had a swimming pool and a nine-hole golf course at this post," he wrote in a letter to the Winnipeg Free Press in May 1942. Later that year he joined the 409th Bomb Squadron, 93rd Bomb Group at Fort Myers, Florida. Gustafson traveled with the 93rd Bomb Group to North Afric and England where he regularly played baseball for the 93rd Bomb Group Ted's Traveling Circus ball team.
"Gus is a staff sergeant in the medical unit at the base [Hardwick, Norfolk]," Lieutenant Ken Herbster, USAAF physical training instructor, told the Wisconsin State Journal on March 6, 1944, "and as such had plenty of time off for baseball. He was the best fielding first baseman in the ETO."

In August 1943 he was selected to play with the Eighth Air Force All-Stars – a team of professionals who were led by former Senators' pitcher, Montie Weaver. Before a crowd of 25,000 at Wembley Stadium, London, the Eighth Air Force defeated a hand-selected team of Army professionals, 1-0, thanks to Bill Brech's outstanding no-hitter. Gustafson scored the game's only run. The team then toured military bases throughout Britain playing a total of 29 exhibition games. Gustafson played 26 games on the tour and batted .408 with three homeruns.
In July 1945, Staff-Sergeant Gustafson returned home to Winnipeg on leave - it was his first time home in four years. Later that month he reported back to Camp Grant, Illinois and was discharged shortly afterwards.

Hugh Gustafson did not return to professional baseball after the war but continued to play professional hockey with the Washington Lions of the Eastern Hockey League (1945-1946), before becoming player-coach with the Hibbing Saints of the semi-pro Northern Hockey League. He did, however, still play baseball with the Brandon Greys, Elmwood Seniors and Winnipeg of the Manitoba Senior League.
In the 1960s Gustafson served as president of the Lake Winnipeg Intermediate Hockey League.
Added February 9, 2006. Updated June 24, 2008.
Copyright © 2015 Gary Bedingfield (Baseball in Wartime). All Rights Reserved.