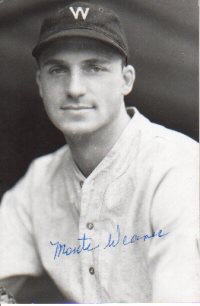 Monte Weaver was not your stereotypical pitcher of the 1930s. The wiry, right-handed North Carolinian was one of the most educated players on the major league diamond and the exact antithesis of the flannel-clad, tobacco-chewing players of his era.
Montie M "Monte" Weaver was born in the mountains of northwest North Carolina on June 15, 1906. The house where he was born in Helton, Ash County, North Carolina still stands. Some years ago I met with Weaver's grandson, Richard Weaver, who told me that folks in Ash County still remember Monte. "Ash County is a close-knit community," he explained. "Whenever a member of the family goes to visit the area they're made to feel like royalty. It's nice to know he's not forgotten down there even after all these years."
In 1924, the 18-year-old attended Emory and Henry College, a small Methodist college in southwest Virginia. To pay his way he pitched for a semi-pro colliery league team in Jenkins, Kentucky, earning $300 a month. The big leagues, however, were a long way from his mind. He was working towards a master's degree in mathematics studying the safe speed of railroad trains relative to the curvature of the tracks. He later joined the elite faculty at the University of Virginia, where he taught analytic geometry and was on his way to getting a doctor's degree until baseball beckoned during the summer of 1928.
Based on his semi-pro performances, Weaver – aged 22 – was coaxed to join Durham in the Piedmont League where he started and completed 19 games, regularly pitching on just two days rest. "My grandfather was offered a Rhodes scholarship at about the same time he started playing pro ball," explains Richard Weaver. But there was no looking back. By 1931 he was a 20-game winner with the Baltimore Orioles of the International League and the ever cautious Clark Griffith, who had often seen Weaver pitch against the Senators in spring training, bought him to Washington in September 1931 at a cost of $25,000.
Weaver won his first four starts in 1932 with an up-and-coming Senators team that included Heinie Manush, Joe Kuhel, Buddy Myer, Ossie Bluege and Joe Cronin, the rock-solid shortstop and future manager. Lloyd Brown and Tommy Thomas were on the pitching staff and Alvin Crowder had a career year with 26 wins for the third place club. Weaver was 22-10, fifth most wins in the American League.
The tall, laconic right-hander was visibly of academic bearing and soon earned the nickname "Prof" from his teammates. One can only wonder at the conversations he must have had with batterymate and fellow academia, Moe Berg.
In 1933, Weaver struggled with a shoulder injury and could manage only ten regular season wins but realized the ambition of all pitchers when, on October 6, he started the fourth game of the World Series against the Giants.
New York took the first two games at the Polo Grounds but Earl Whitehill shutout the Giants, 4-0, in the third game. Weaver faced Carl Hubbell in the fourth game in what seemed an impossible task of trying to tie the series at two games each. The game started with all the makings of an unexpected pitchers' duel as Weaver and Hubbell kept a blank scoresheet through the first three innings. It was Giants' manager Bill Terry who broke the ice in the fourth inning. "We were going along, nothing-to-nothing, and Bill Terry came up," Weaver recalled in a 1992 Sports Collectors Digest interview. "They put up temporary bleachers in right field – that was the short field. They wanted to seat more people. He [Terry] hit a nice fly ball that just got into that temporary bleacher. That was a home run."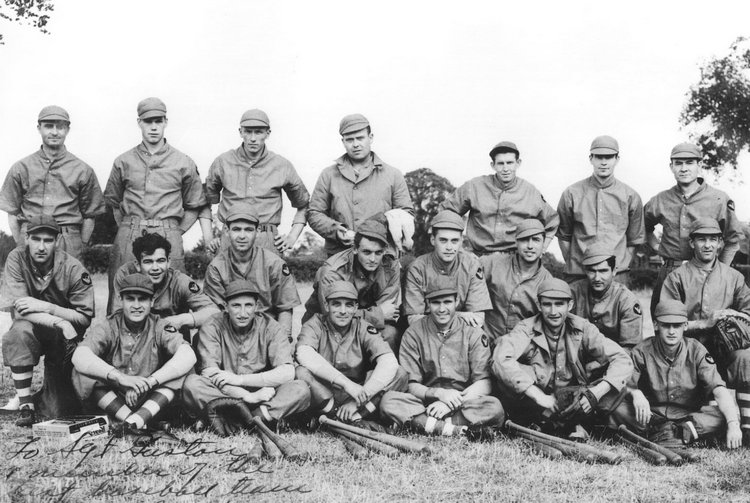 The Eighth Air Force All-Stars in England, 1943. (Weaver is back row, first left)
From then on it remained a head-to-head duel until Hubbell muffled a bunt in the seventh that tied the game. Both starters remained as the game went into extra innings. In the top of the eleventh the Giants rallied as Travis Jackson bunted safely down the third base line, was bunted to second and scored on Blondy Ryan's ground ball through the infield. The Senators did not give up easy, however. Runners reached second and third with one out before an intentional walk set up a double play to end the game and World Series' fame for Weaver.
Weaver remained on the Senators' staff through 1938 although his glory days were behind him. He was sold to the Red Sox in March 1939. "They had bought the Louisville club in the American Association," Weaver told the Sports Collectors Digest. "That's why they bought me. They couldn't get me out of the league on waivers until the middle of July." Weaver was used sparingly before joining the Colonels.
Weaver continued to pitch in the minors until 1941 working 53 games in relief for the Baltimore Orioles. The following year, with the United States at war, he joined the Army Air Force. He trained as an air traffic controller in Orlando, Florida and was sent to England with the Eight Army Air Force in July 1943. Stationed at Fighter Command headquarters in Saffron Walden, Second Lieutenant Weaver's duties included organizing ball games for the servicemen and even pitching a few innings here and there.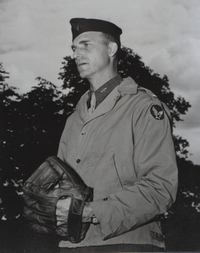 In August 1943, the 37-year-old coached an Eighth Air Force team of former professional players that played an all-professional Army team at London's Wembley Stadium. The Air Force team defeated the Army 1-0 on the no-hit pitching of Bill Brech and then embarked on a 30-day tour of military camps throughout Great Britain. The team would play during the day and travel in the evening. Because the blackout in Britain at this time caused virtually zero visibility they often had to have someone in front of the vehicle to show the way. The team – which featured Red Sox first baseman Paul Campbell and future White Sox hurler Ross Grimsley – finished the tour with a 29-1 record and led Lieutenant-General Ira C Eaker to call them "the best baseball team I have ever seen."
After 27 months overseas Weaver returned to the United States in November 1945. "After World War II I moved to Florida," he told Sports Collectors Digest. "When I came home I thought I would go live in Washington – I had some apartments up there – but I didn't like Washington. It wasn't like the city was when I left it. Overcrowded and everything. So I came to Orlando and got into an awning business and then I got into the grove business."
Weaver and his wife, Roberta, bought their first grove in 1951, and within a few years they owned three groves producing an abundance of oranges and grapefruit.
In Weaver's latter years, nephew Richard recalls how his grandfather used to enjoy talking about his playing days. "Montie loved nothing better than to sit on his porch, overlooking the lake at the front of his home in Orlando and talk about baseball and the good old days in the mountains of North Carolina. All you had to do was start him off and he could talk right through to the early hours."
Montie Weaver passed away on June 14, 1994, a day before his 88th birthday. His passing was virtually ignored by most sports papers, an event that so riled Shirley Povich, the much respected veteran sports writer with the Washington Post, that he devoted an entire column to Montie Weaver. Povich claimed Weaver had "a strong claim on the memory of Washington baseball fans and the game's historians" as a "far cut above the common mold of big league ballplayer."
Perhaps the most surprising oversight however is that Montie Weaver has failed to be inducted into the North Carolina Sports Hall of Fame.
Thanks to Montie's grandson Richard Weaver, and Montie's late wife, Roberta, for help with this biography.
Created January 8, 2007. Updated August 16, 2007.
Copyright © 2008 Gary Bedingfield (Baseball in Wartime). All Rights Reserved.