Leslie F "Bill" Fleming was born on July 31, 1913 in Rowland, California. A graduate of St Mary's College of California, he signed with Muskogee of the Western Association in 1936 and was with the Vancouver Maple Leafs of the newly-formed Western International League in 1937.
Fleming's 20-11 won-loss record and 1.79 ERA with the 1938 Bellingham Chinooks of the Western International League, earned him a spot with the Hollywood Stars the following year, and he made his major league debut with the Boston Red Sox in Augsut 1940. He spent the 1941 season between the Red Sox and Louisville of the American Association, and was sold to the Cubs in December 1941.
Fleming became a major league regular with Chicago. Working as both a starter and reliever, he appeared in 33 games in 1942, and was 5-6 with a 3.01 ERA. He spent most of 1943 with Milwaukee of the American Association, but was back with the Cubs in 1944, making 39 appearances for a 9-10 record and 3.13 ERA.
On January 15, 1945, Fleming entered military service with the Army. Stationed at Fort Lewis in Washington, he quickly became a mainstay of the Fort Lewis Warriors ball team. With a line-up that included Cubs' teammates Dom Dallessandro and Tony York, Danny Litwhiler of the Cardinals, Ray Mueller and Frankie Kelleher of the Reds, and Ron Northey of the Phillies, the Warriors dominated military baseball in the northwest United States and finished the year with a 37 game consecutive winning streak. On August 21, 1945, the Warriors eat two Pacific Coast League teams in same day, defeating the Oakland Oaks, 11-3, and then the Los Angeles Angels, 5-3. In September, the Fort Lewis Warriors easily clinched the Ninth Service Command championship.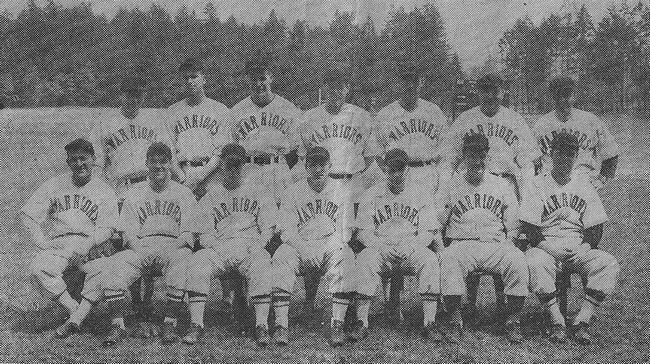 The undefeated Fort Lewis Warriors of 1945. Front row, left to right: Dom Dallessandro, Ben raviotti, Oral "Mickey" Burnett, Danny Litwhiler, Bob Joratz, Frankie Kelleher and Gil Neumann. Back row: Ray Mueller, Don Johnson, Gale Bishop, Bill Fleming, Jake Shirk, Tom Heath and John Stepich (manager).
Fleming was discharged on December 15, 1945. He returned to the Cubs in 1946, but made only 14 brief appearances and finished the year with the Pacific Coast League's Los Angeles Angels. Fleming never returned to the major leagues. He pitched in the Coast League with the Angels and Portland until 1953.
Fleming remained involved in baseball in various capacities and moved to Reno, Nevada in the 1960s to manage the US Mining Inc team based there.
Bill Fleming passed away in Reno on June 4, 2006. He was 92 years old.
Thanks to Alan H Archambault, Director of the Fort Lewis Military Museum, for supplying information contained in World War II editions of the Fort Lewis newspaper.
Created February 18, 2008.