Ron Northey
Date and Place of Birth: April 26, 1920 Mahanoy City, Pennsylvania
Died: April 16, 1971 Pittsburgh, Pennsylvania
Baseball Experience: Major League
Position: Outfield
Rank: Private
Military Unit: US Army
Area Served: United States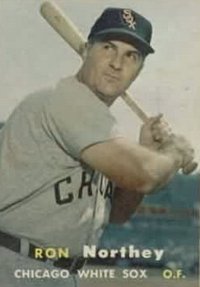 Ronald J "Ron" Northey was born on April 26, 1920 in Mahanoy City, Pennsylvania. He played baseball at Duke University for joining the Philadelphia Phillies in 1942. Northey had been seriously beaned while playing ball at Duke and left hard of hearing in one ear. He was declared unfit for duty with the Navy on two occasions.
He batted .251 in 127 games his rookie year in the major leagues, but really began to get noticed the following year when he clouted 16 home runs and drove in 68 runs.
In 1944, Northey hit 22 home runs for the Phillies and added a National League third-best 104 RBIs.
In January 1945, he became the first major leaguer to be drafted following the re-examination of 4-F players. "It was not my fault that I was not in the Army long ago," said Northey after beginning training at New Cumberland Army Reception Station in Pennsylvania. "Now that I'm here I want to do my part, the same as any other American, to get this war over in a hurry."
Private Northey was also based at Fort Lewis in Washington, where he played baseball until his discharge in 1946.
Northey returned to the Phillies in 1946 and had a somewhat sub-standard season, batting just .249. However, he would remain in the major leagues in 1957, playing with the Cardinals, Reds, Cubs and White Sox. Northey played over 1,000 games and batted .276. He was a coach with the Pirates from 1961 to 1963, and his son, Scott, played briefly with Kansas City in 1969.
Ron Northey, who suffered from heart disease, passed away on April 16, 1971 in Pittsburgh, Pennsylvania. He was just 50 years old.
Created May 26, 2007.
Copyright © 2007 Gary Bedingfield (Baseball in Wartime). All Rights Reserved.