Go on, why not sponsor this page for $5.00 and have your own message appear in this space.


Click here for details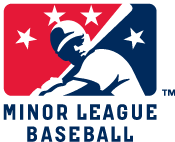 Dick Bouknight
Date and Place of Birth: June 20, 1919 Newberry, South Carolina
Died: September 1, 1995 Johnson City, Tennessee
Baseball Experience: Minor League
Position: Catcher
Rank: Unknown
Military Unit: 13th Airborne Division US Army
Area Served: European Theater of Operations

Dick Bouknight, Johnson City's stellar backstop, today reigned as "King of Swat" in the Appalachian League as the result of a spurt in the final week of the season that carried him past two Elizabethton contenders and into the 1940 championship with an average of .375. Bouknight connected safely 17 times in 32 times at bat during the last seven days of the season to capture the title.
Kingsport Times September 8, 1940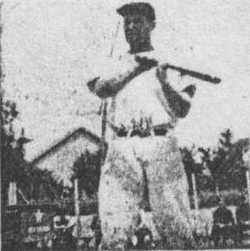 Richard D "Dick" Bouknight was born in Newberry, South Carolina on June 20, 1919.
Bouknight signed a professional contract with the Cardinals' organization in 1938 and was assigned to Gastonia of the North Carolina State League where he batted .323 in 91 games. In 1939, the 6-foot 2-inch 230-pound catcher batted .335 and was regarded as the best receiver in the Appalachian League while playing with the Johnson City Cardinals. He was again with the Johnson City team in 1940, leading the league with a .376 batting average and developing a reputation as a power hitter. "Bouknight's homer," wrote the Kingsport Times on June 7, 1940, "was one of the longest ever hit in Cherokee Park [Kingsport's ball park], clearing the right field bleachers by a matter of 10 feet and dropping across Catawba Street."
Bouknight was with Mobile of the Class B Southeastern League for 1941 where he batted .338, and he hit .278 with the same team in 1942.
On November 19, 1943, Bouknight entered military service with the Army. He was assigned to the13th Airborne Division, which left the United States for France in January 1945, and was based at Sens, Joigny and Auxerre. The 13th Airborne did not see combat and Bouknight had plenty of time for baseball. The 13th Airborne Black Cats played a 37-game schedule in 1945 – losing just four games. Bouknight had an impressive season which included a 4-0 win against the United Kingdom All-Stars in London, England on July 8 in which he got three hits off minor league pitcher Ralph Ifft. The Black Cats were also XVI Corps champions.
Bouknight, at the age of 26, returned to professional baseball in 1946. He played briefly with Jersey City of the International League that year and led the Tri-State League with a .367 average for the Asheville Tourists. He remained with Asheville in 1947, and joined the Rock Hill Chiefs of the Tri-State League in 1948, becoming player/manager in June.
Bouknight remained at the helm of Rock Hill until January 1952, when he unexpectedly quite baseball to work for the produce company in Johnson City, Tennessee, that he had been working for during the off-season.
Bouknight passed away on September 1, 1995 in Johnson City. He was 76.
Created July 15, 2006. Updated June 19, 2008.
Copyright © 2013 Gary Bedingfield (Baseball in Wartime). All Rights Reserved.