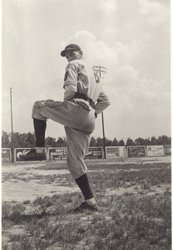 Clarence R "Ralph" Ifft had a superb 14-4 won-loss record and a league-leading 2.01 ERA with Beaver Falls of the Pennsylvania State Association in 1940. The crafty right-hander was juggling a baseball career with his education, and after graduating from the University of Akron in 1941, he pitched for Springfield of the Three-I League before entering military service.
In England, Ifft was a Special Services Officer for the US Army with a rank of 1st lieutenant. His responsibilities included the organization of four baseball leagues and a softball league, staging weekly boxing shows, running a swimming pool and overseeing a golf tournament. He told a Stars and Stripes reporter in 1943, "We try to make it possible for every soldier who wants to take part in athletics to do so. Our job is to keep the boys on the post and out of the pub and to an extent I think we are succeeding."
In 1944, Ifft was responsible for organizing a fund-raising baseball game in England which gave him the opportunity to meet Queen Mary. Ifft wrote the following account to his parents in Zelienpole:
"The baseball game that was played for the Queen and the good burghers of Badminton, Gloucester, was a request from the Duke of Beaufort through General Bradley. It was part of a money raising scheme for the Badminton "Salute the Soldier" week.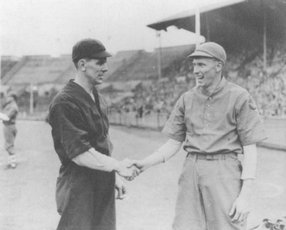 "The game was to be played on the Badminton Castle cricket grounds, which meant the construction of a backstop and laying out the playing field. This was done by one of our special service platoons, whose job it is to make available such facilities for recreation of our troops.
"Uniforms are very scarce over here, but we found two teams which were completely outfitted, so we got them lined up to provide the competition. Of course they were eager to perform for royalty.
"I was asked by the Duke to have the seat beside the Queen as she was anxious to have someone explain the game to her. I asked her if she would like to throw out the first ball and it apparently tickled her as all during the warm-ups she kept asking when she could toss out the ball. When we got ready for her to do her stunt, we had the photographer snap her in the act, but he bungled the shot somehow, and a good news picture was lost. I doubt if any of the Royal Family ever acted as a first ball tosser before. Her Majesty was in good form and had a Brooklyn scout been there he probably would have signed her up!
"During the progress of the game Her Majesty asked a multitude of questions, including "What are those cushions (bases) for - do the players sit on them when they get tired?
"I was embarrassed no end when players and soldiers started swarming around the Queen for her autograph. It isn't exactly the proper thing to do to ask a Queen for her autograph and I felt sort of responsible for her and the conduct of the soldiers, but she relieved the situation by insisting on signing balls, gloves and everything the players offered.
"She was a good sport throughout and I'm sure she wasn't pretending when she claimed to have had a fine evening."
Ifft briefly returned to baseball in 1946. He was 32 years old and pitched three games for Youngstown of the Middle Atlantic League before calling it a day.