The young infielder found himself with the independent Pensacola Pilots of the Class B Southeastern League in 1941, playing 88 games and batting .252 before being purchased in July by the Tulsa Oilers of the Class A1 Texas League, who were owned by the Chicago Cubs. He would be the team's fifth shortstop of the season and it was hoped his defensive skills would help the club earn a place in the Texas League playoffs. "Although he isn't a consistent hitter," reported The Sporting News on July 31, 1941, "Zelasko will help the Oilers in more ways than one. He covers plenty of ground, gets rid of the ball fast on double plays and has helped pep up the entire infield."
Playing alongside future major leaguers Dixie Howell, Don Johnson, Whitey Platt, Marv Rickert, Eddie Waitkus and Emil Kush, Zelasko played 58 games for the Oilers and batted .220. Of his 38 hits, 11 were doubles.
At the peak of his baseball career, military service beckoned and the 25-year-old entered military service with the Army on May 1, 1942. He served at Camp Grant, on the southern outskirts of Rockford, Illinois, and on June 1, 1942, helped the Camp Grant baseball team defeat the Chicago Cubs, 4 to 3. Zelasko was the shortstop and leadoff hitter that day, collecting one hit in four at-bats in front of 14,000 soldiers.
Zelasko later served in Europe with the 63rd Infantry Division, and following the Nazi surrender, he played baseball for the 63rd Infantry Division ball team in Germany during the summer of 1945.
Zelasko received his discharge from the Army in December 1945. He attended the Chicago Cubs' advanced training camp for former servicemen at Lake Worth, Florida, in January 1946, and was assigned to the Davenport Cubs of the Class B Three-I League for the season. He played well at Davenport, batting .267 and helping the team to a dead heat with Danville for first place at the end of the season. Davenport then clinched the crown by defeating Danville, 4 to 2, in the playoff.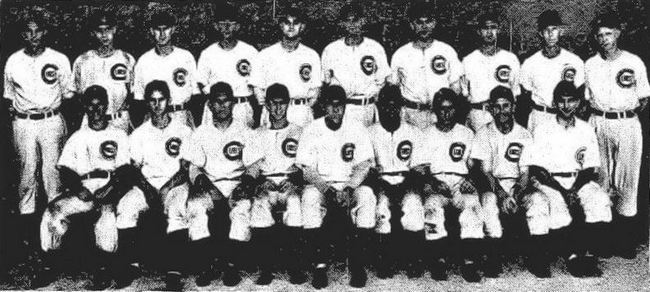 The 1946 Davenport Cubs - champions of the Three-I League
Boots Zelasko is front row, second right
Zelasko advanced to the Class A Des Moines Bruins of the Western League in 1947, but hit only .229 and was released by the Cubs' organization at the end of the season. He joined the independent West Palm Beach Indians of the Class C Florida State League in 1948 and remained with the club for two seasons before joining the Fort Lauderdale Braves of the same league in 1950. Zelasko retired from baseball after the 1951 season, aged 35.
Boots Zelasko passed away in November 1994 in Fort Lauderdale, Florida. He was 83.
Created May 14, 2008.
Copyright © 2013 Gary Bedingfield (Baseball in Wartime). All Rights Reserved.
| | | | | | |
| --- | --- | --- | --- | --- | --- |
| Year | Team | League | Batting Avg | HR | RBI |
| 1937 | Davenport | Western League | .127 | 0 | 5 |
| 1938 | Durham | Piedmont League | .179 | 0 | 1 |
| 1938 | Columbia | S Atlantic League | .237 | 2 | 38 |
| 1939 | Columbia | S Atlantic League | .263 | 2 | 58 |
| 1940 | Durham | Piedmont League | .206 | 0 | 14 |
| 1940 | Columbia | S Atlantic League | .232 | 0 | 22 |
| 1941 | Pensacola | Southeastern League | .252 | 2 | 28 |
| 1941 | Tulsa | Texas League | .220 | 0 | 11 |
| 1946 | Davenport | Three-I League | .267 | 0 | 35 |
| 1947 | Des Moines | Western League | .229 | 0 | 14 |
| 1948 | West Palm Beach | Florida International League | .250 | 2 | 36 |
| 1949 | West Palm Beach | Florida International League | .196 | 0 | 32 |
| 1950 | Fort Lauderdale | Florida International League | .242 | 1 | 38 |
| 1951 | Fort Lauderdale | Florida International League | .214 | 2 | 28 |