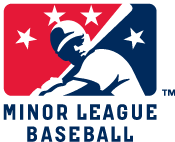 Joe Yockman
Date and Place of Birth: May 18, 1916 Chagrin Falls, Ohio
Died: April 12, 1990 Macon, Georgia
Baseball Experience: Minor League
Position: Pitcher
Rank: First Lieutenant
Military Unit: Company M, 29th Infantry Regiment US Army
Area Served: United States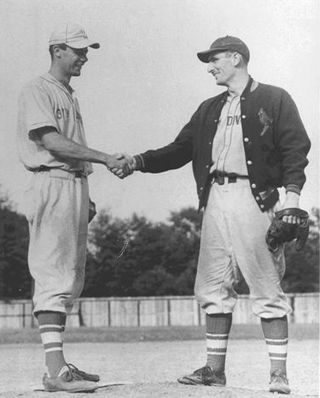 Joe Yockman (left) before a ballgame for the 37th Division all-stars with fellow minor leaguer George Fingers.
Joseph John "Joe" Yockman was born in Chagrin Falls, Ohio on May 18, 1916. He played amateur baseball in Lorain, Ohio with the Lorain Elks and the Lorain Lyon Tailors of the city's Amateur Baseball Association Class A League.
In 1939, the young right-handed pitcher signed a professional contract to play with Danville-Schoolfield Leafs of the Bi-State League. In 1940 he signed with the St Louis Cardinals and was sent to the Daytona Beach Islanders of the Florida State League but played the majority of the season with the Cooleemee Cards in North Carolina State League. Yockman posted a 5-20 won-loss record and 5.82 ERA with Cooleemee which, at first glance, seems extremely unimpressive. Cooleemee, however, were a terrible team that season. They finished 27 and 84, 39-and-a-half games behind the pennant-winning Kanapolis Towelers.
After two seasons, Yockman's professional athletic career came to an abrupt end as he entered military service with the US Army on January 31, 1941.
Yockman spent the summer of 1941 at Camp Shelby, Mississippi, where he played for 37th Division All-Stars. The All-Stars won 26 out of 31 regular season games, and on July 31, 1941, they beat the Laurel Masonites to win the Mississippi state semi-pro title. In early August they were defeated by the Baton Rouge Essos in the sectional tournament - just one step away from the National Semi-Pro Championships at Wichita, Kansas.
In 1942, Yockman was based at Fort Benning, Georgia. He continued to play baseball at Fort Benning starring with the 29th Infantry Regiment Blue Devils. That same year he married Anna Mae Robin on August 9. They were married in the Parish of St. Bernard, Louisiana.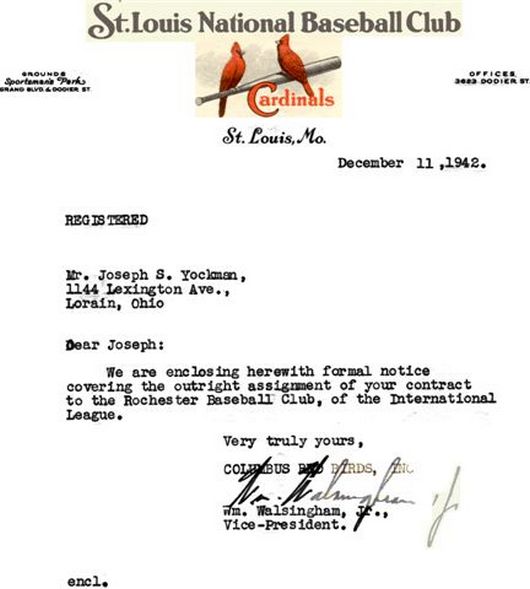 In December 1942, while still in military service, Yockman's contract with the Cardinals was assigned to Rochester of the International League.
In early 1943, when the 29th Infantry Regiment left the United States for Iceland, Yockman, now a first lieutenant, remained at the US Army Infantry School at Fort Benning. That season he played under manager Hank Gowdy along with teammates Herb Moore and Benny Zientara.
Yockman was discharged on December 27, 1945. He joined the Goldsboro Goldbugs of the Coastal Plain League in 1946, but was now approaching 30 and had been out of organized baseball for five seasons. Yockman worked for the Gulf Oil Company as a District Manager until his retirement in the late 1970s. The family originally settled in New Orleans but his career took them to Alabama and Georgia. Joe and Anna Mae had seven children – JoAnn, Sue, Carrie, Faye, Carl, Joseph Jr and MaryEllen.
Joseph Yockman passed away in Macon, Georgia on April 12, 1990. He was 73 years old.
Thanks to Faye Drew (nee Yockman) for supplying the information for this biography.
Created April 4, 2007. Updated April 9, 2007.