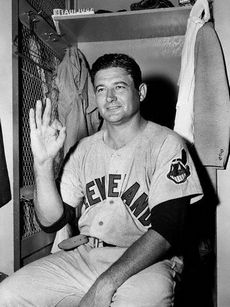 Early Wynn was born on January 6, 1920 in Hartford, Alabama. He was signed by the Washington Senators in 1937 and sent to Sanford in the Florida State League where he had a 16-11 record and 3.41 ERA.
Pitching for Charlotte in the Piedmont League in 1938, he was 10-11 and was 15-14 the following year with a 3.96 ERA earning a promotion to the Senators in September. The 19-year-old made three starts before the year was over and finished 2 and 0.
Wynn returned to Charlotte in 1940 and was with Springfield in the Eastern League in 1941, making a further five starts for Washington with a 3-1 record and impressive 1.58 ERA. Wynn was on the Senators' starting rotation in 1942 and was 10-16. In 1943, he was 18-12 for the second-place Senators and led the American League with 33 starts. However, in 1944, the Senators slumped to last place and Wynn was 8-17 leading the league in losses.
On August 21, 1944, Wynn was extracted from the gloom of the Senators' losing campaign and inducted into military service with the Army at Fort Myer, Virginia. Private Wynn initially took 17 weeks training at the Armored Replacement Training Center at Fort Knox, Kentucky, where he married Lorraine Follin on September 12, 1944. Miss Follin was working with the Red Cross at Fort Knox. He was later posted the Philippines where he played baseball with Kirby Higbe's Base 30 Manila Dodgers. The Manila Dodgers had such a vast pitching staff that Wynn – who was pretty good at wielding a bat – often played shortstop.
After 23 months, Wynn was discharged at Camp Meade, Maryland on July 5, 1946. He returned to the Senators and was 8-5 in 17 starts with a 3.11 ERA.
Wynn was traded to the Cleveland Indians in December 1948 and became a 20-game in 1951. He went on to enjoy a further four 20-win seasons, was five-time American League all-star selection and won the Cy Young Award at the age of 39 in 1959.
Wynn's major league career ended in 1963 with the Indians when he won his 300th game. After his playing career ended, Wynn was pitching coach for the Indians and Minnesota Twins. He was elected to the Baseball Hall of Fame in 1972.
He was a broadcaster for the Toronto Blue Jays from 1977 to 1980, and in 1982 and 1983, he was a radio and television broadcaster for the Chicago White Sox.
Early Wynn passed away in Venice, Florida on April 4, 1999. He was 79.
Created December 10, 2007.