Date and Place of Birth: August 10, 1911 Tabor City, North Carolina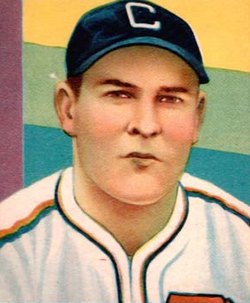 Taft S "Taffy" Wright was born on August 10, 1911 in Tabor City, North Carolina. He signed with Charlotte of the Piedmont League in 1933 and batted .330 in 124 games with 90 RBIs. He moved up to Atlanta of the Class A Southern Association in 1934 and Albany of the Class AA International League the next year.
Wright – a left-handed hitting outfielder – was with Chattanooga in 1936 and 1937. He batted over .300 each year and made his major league debut with the Washington Senators on April 18, 1938. Wright played 100 games his rookie year and hit the ball at a sensational .350 mark. He batted .309 in 1939 and was traded to the White Sox in 1940. He continued to hit above .300 each season, and when he entered military service on September 4, 1942, Wright had a major league career batting average of .328.
Stationed at Fort Bragg, North Carolina in 1942 and 1943, he was assigned to the Greensboro Overseas Replacement Depot in 1944 and played ball for the Greensboro ORD Tech-Hawks. Wright was at Wheeler Army Air Field, Hawaii in 1945, and playing for the Wheeler Wingmen he was selected to an Army Air Force all-star team.
In the late summer of 1945, Sergeant Wright played for the 73rd Wing Bombers led by Buster Mills during a tour of the Marianas, but according to one observer of the time, he was "saving himself for when he could return to the big leagues. He was not much of an asset."
Wright was discharged from service at Fort Bragg on November 15, 1945. He was back with the White Sox in 1946, and for the first time in his career he batted below .300, at .275. He was back to his old form in 1947, hitting .324 in 124 games, but dropped to .279 in 1948, prompting a sale to the Philadelphia Athletics. The 37-year-old played just 59 games with the Athletics, batted a lowly .235 and was released at the end of the year.
Wright continued to play in the minors into his mid-40s and had outstanding seasons with Louisville of the American Association and Amarillo of the West Texas-New Mexico League.
Taffy Wright passed away on October 22, 1981 in Orlando, Florida. He was 70 years old.
Thanks to Deuce Niven at the Tabor-Loris Tribune, O Richard Wright, Jr and Taft Wright, Jr for help with this biography.
Created February 19, 2008.