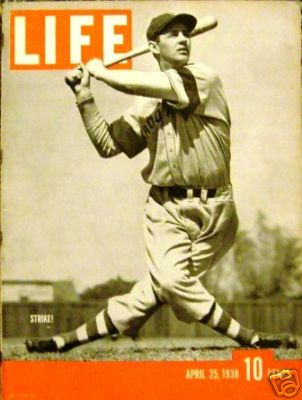 Tom Winsett on the cover of LIFE magazine April 25, 1938
John T "Tom" Winsett was born on November 24, 1909 in McKenzie, Tennessee. Winsett attended Bethel College in McKenzie before signing a professional contract in 1929. He played 78 games with the Mobile Bears of the Southern Association and batted .346 with 7 home runs.
Winsett joined the Boston Red Sox the following year and made his major league debut on April 20, 1930, appearing in one game as a inch hitter before returning to Mobile for the remainder of the season. He was back with the Red Sox in 1931 but batted just .197 in 64 games and joined the Buffalo Bisons of the International League in 1932.
Winsett batted .351 with Buffalo that year and hit .283 with Montreal of the International League in 1933. He joined the St Louis Cardinals' organization in 1934 playing with the Rochester Red Wings of the International League that year and the Columbus Senators of the American Association in 1935. Still with Columbus in 1936, Winsett was traded by the Cardinals to the Brooklyn Dodgers in August and he played 22 games with the National League before the season concluded.
The following year – 1937 – was to be Winsett's only season as a regular in the majors. He played 118 games with the Dodgers and batted .237. He played for Jersey City of the International League in 1938 and was back in the Cardinals' organization the following year with stops at Columbus, Sacramento, Houston, Rochester and New Orleans.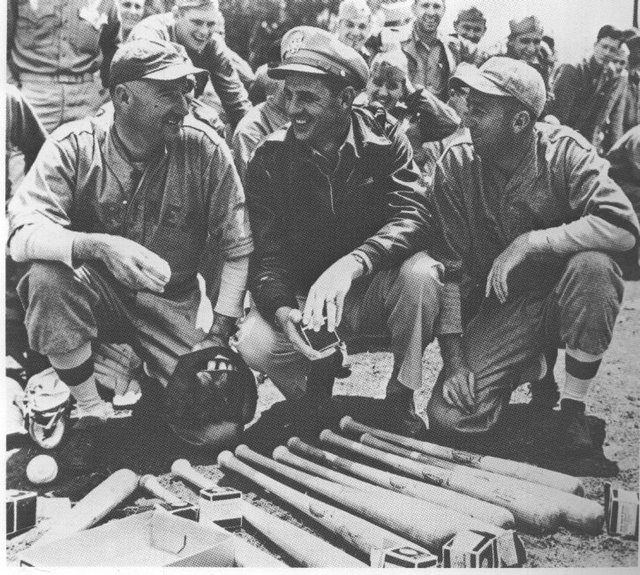 Tom Winsett (center) with Jim Bivin and Cal Dorsett in the Pacific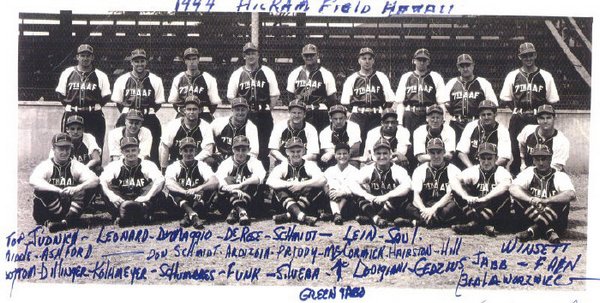 The 7th AAF Fliers in Hawaii. (Tom Winsett is middle row, far right. Joe DiMaggio is back row, third left)

Winsett entered military service with the Army Air Force towards the end of the 1942 season and was stationed at St Petersburg Air Base in Florida as an athletic officer in 1943. Lieutenant Winsett quickly organized two baseball leagues and utilized the New York Yankees' spring home - Huggins Field – for their games. Players available to Winsett in 1943 included Burgess Whitehead of the New York Giants, Manny Perez of the Pacific Coast League Hollywood Stars, Clayton Lambert, who would pitch for the Reds after the war and pitcher Ben Wade, who would make his major league debut with the Cubs in 1948.

In 1944, First Lieutenant Winsett was assigned to Hickam Field, Hawaii, where he managed the 7th Army Air Force ball team and also the Army team in the 1944 Service World Series.

Winsett – 36 when he returned from military service at the end of 1945 – did not return to baseball. He passed away on July 20, 1987 in

M