George Wilson
Date and Place of Birth: August 30, 1925 Cherryville, North Carolina
Died: October 29, 1974 Gastonia, North Carolina
Baseball Experience: Major League
Position: Outfield
Rank: Unknown
Military Unit: US Army
Area Served: European Theater of Operations
George Wilson could hit. Barney Deary, former minor league umpire and later a supervisor for umpires of professional baseball said that Wilson was in the top 10 best hitters he had ever seen. But Wilson - due in part to unreliable defensive work and three years in the Army in WWII – never became a major league regular, but still enjoyed over 30 years in the game.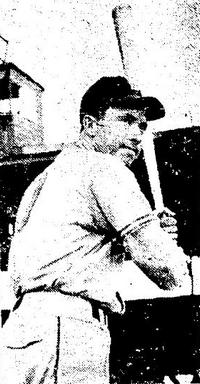 George W Wilson was born on August 30, 1925 in Cherryville, North Carolina.
In 1941 he was playing American Legion baseball in Gastonia, North Carolina when signed by Herb Pennock of the Boston Red Sox. "George and I played together on the CDA team that year," wrote Dusty Gardner in the Gastonia Gazette on November 3, 1974. "I'll never forget that 16-year-old, 6-foot, 135-pound kid clouting a baseball across the street and into the roof of a house from the field in Lineberger Park."
The Red Sox assigned the left-handed hitting right fielder to the Owensboro Oilers in the Class D Kitty League in 1942 where he hit .316 in 48 games, and then .335 in 63 games with the Statesville Owls in the Class D North Carolina League.
On April 14, 1943, Wilson's career was put on hold when he entered military service with the Army at Camp Croft, South Carolina. Wilson arrived in Scotland in 1944, where he met his future wife, Nancy Lyon. He spent 14 months in Europe and saw combat in France and Germany.
Wilson arrived home in Cherryville, North Carolina with his new bride in 1946, and the 20-year-old immediately began to resurrect his professional baseball career. He reported to the Scranton Red Sox of the Class AA Eastern League in the spring, but after three years away from the game he was not yet ready for that level of baseball, and was optioned to the Durham Bulls of the Class B Carolina League where he hit .327 with 16 home runs and 121 RBIs.
In 1947 he went to spring training with the Red Sox and attracted media attention by proudly boasting he would out hit Ted Williams. In fact, Wilson was an ardent admirer of Williams and adopted his hitting style. Although he would never achieve his claim they became friends and whenever Wilson had a great day at the plate he'd send an account of his accomplishments in a telegram to Williams.
Wilson played under manager Pinky Higgins with the Roanoke Red Sox in the Class B Piedmont League in 1947. He had another excellent year at the plate, helping the pennant winners with a .357 batting average, 16 home runs and 136 RBIs. At this point it seemed that only his defensive work was keeping out of the major leagues.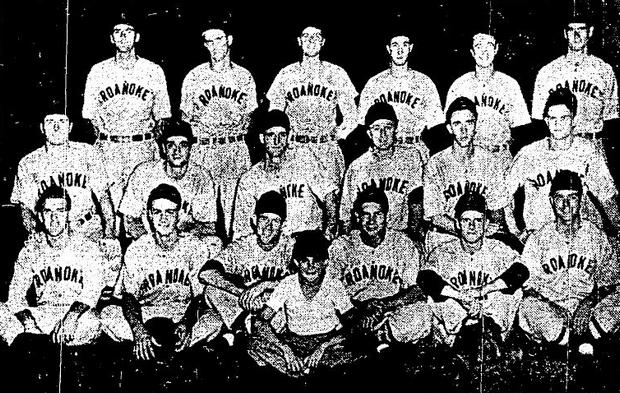 Roanoke Red Sox 1947 (Wilson is back row, fifth from left)
After another spring training with the Red Sox in 1948, Wilson played for the Birmingham Barons in the Class AA Southern Association. His season featured all-star selection and an 18-game hitting streak, and he ended the year with a .335 average, 27 home runs and 102 RBIs as the Barons clinched the Dixie Series title.
In 1949, Wilson was promoted to the Louisville Colonels in the Class AAA American Association. But just as he seemed on the verge of a major league career, an injury-hampered season saw his batting average slumped to .267. He remained with Louisville in 1950, hitting .274.
In 1951, the 25-year-old was back with Birmingham. He had a stellar season batting .325 with 29 home runs and 112 RBIs as the Barons claimed the Dixie Series title for the second time. There was little doubt that Wilson could hit but it seemed there was no room for him with the Red Sox. Then, in November 1951, he was drafted by the Chicago White Sox.
Wilson had an outstanding spring training with the White Sox and made his major league debut on opening day April 15, 1952, striking out as a pinch-hitter for Billy Pierce in the eighth inning against Cleveland. He would play a further seven games for Chicago, collecting one hit in nine at-bats before being sold to the New York Giants on May 8 for $25,000. The Giants used Wilson predominantly as a pinch-hitter. He appeared in 62 games and collected 27 hits in 112 at-bats for a .241 average.
During spring training in 1953, Wilson was with the Giants at Denver where they played on a field ringed by snow banks. On one occasion they were playing Cleveland, Wilson was in right field and appeared to catch a hard-hit ball as he fell over the snow bank. He stretched a hand up from behind the bank clutching a white mass, presumably the ball. Umpire Art Passarella signaled a catch and began to run back to the infield. Wilson then threw away his snowball and retrieved the baseball, which he had not caught. The Indians created a huge fuss, but the umpire wouldn't change his decision, as he didn't see Wilson complete his act.
During the regular season, Wilson lingered on the Giants' bench, making just 11 pinch-hit appearances before being sent to the Minneapolis Millers of the American Association in May. Despite missing 36 games for the Millers, Wilson led the league with 34 home runs and hit .315 with 77 RBIs.
Now 28 years old, he was back with the Millers in 1954 and also played winter ball with the Magallanes Turks in the Venezuelan League in hope of getting back to the majors. But Wilson was again with the Millers in 1955, batting .307 with 31 home runs, 99 RBIs and swatting 10 home runs in a 12-game stretch.
In 1956, Wilson returned to the major leagues with the New York Giants who continued to use him as a pinch-hitter. On April 29, he hit a pinch-hit homer in the ninth against the Phillies to tie a game, and appeared in 53 games, collecting nine hits of 68 at-bats for a lowly .132 average. On August 22, 1956, Wilson was selected off waivers by the New York Yankees. He played 11 games and hit just .167 but made his only World Series appearance, batting for Whitey Ford and striking out in the fourth inning of Game One. It was to be his last appearance in the major leagues.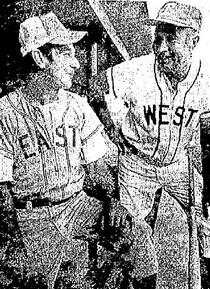 George Wilson (right) at the 14th Old Timers' game in Gastonia - June 14, 1974
In 1957, Wilson was with the Denver Bears, the Yankees' Triple AAA affiliate in the American Association. He remained with the Bears in 1958 and joined the Rochester Red Wings in the International League in 1959.
Wilson turned to managing in 1960 and was at the helm of the Shelby Colonels in the Western Carolina League for the year. The following season he managed the Statesville Owls in the same league – a team he had played for almost 20 years prior.
The 35-year-old returned to the Denver Bears in 1962 as a coach and pinch-hitter. In early 1963 he accepted an offer from Henry "Bozo" Wakabayashi to play in Japan and joined the Nishitetsu Lions along with fellow Americans Jim Baumer and Tony Roig. Despite an injury-ridden season for Wilson, the trio led the Lions to the Japanese Pacific League title. Wilson batted .255 with 20 home runs.
Wilson remained in Japan for the 1964 season, but the Lions were unable to repeat their pennant-winning performance of the previous season. He returned to the United States and worked for a number of years as a scout with the New York Yankees' organization.
During the late 1960s and early 1970s, Wilson was back home with his family in Cherryville, North Carolina and working for the Klutz Machine and Foundry company. But he was never far from baseball and regularly helped the young hitters with the Gastonia Pirates in the Western Carolinas League. "He loved baseball and would go to any length to help a young player along the way," recalled Barney Gardner.
On June 14, 1974, Wilson was manager and first baseman for the 14th Annual Old Timers' game at Sims Park, Gastonia. Many players from the local area including Ted Abernathy, Buddy Lewis and Tom Wright made appearances. Wilson was in great spirits as his team won 3-1.
But just four months later, on October 29, 1974, George Wilson passed away at a hospital in Gastonia. He was just 49 years old and is buried at Mountain Rest Cemetery in King's Mountain, North Carolina.
Created August 27, 2007.
Copyright © 2013 Gary Bedingfield (Baseball in Wartime). All Rights Reserved.