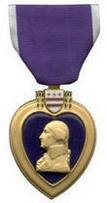 Hoyt Wilhelm
Date and Place of Birth: July 26, 1923 Huntersville, North Carolina
Date and Place of Death: August 23, 2002 Sarasota, Florida
Baseball Experience: Major League
Position: Pitcher
Rank: Unknown
Military Unit: 395th Infantry Regiment, 99th Infantry Division US Army
Area Served: European Theater of Operations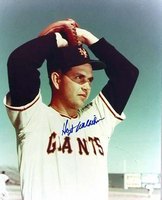 James H "Hoyt" Wilhelm was born on July 26, 1923 in Huntersville, North Carolina.
He became interested in the knuckleball while he was playing for Cornelius High School in North Carolina. He had read a story about knuckleball pitcher Dutch Leonard and started to experiment with the pitch. "As a kid in high school I just didn't have a fast one," he told The Sporting News on June 10, 1953, "and I picked up the knuckler. Nobody taught me. I just found out about throwing it."
He was signed out of high school in 1942 by Mooresville of the North Carolina State League. "When the manager saw my knuckler," Wilhelm recalled, "he sent me home. But I was back for another look in two weeks, and when I used the knuckler to win a game, and then go on to nine straight, nobody objected again to the pitch."
But Wilhelm's baseball career was put on hold when he entered military service with the Army at Camp Croft, South Carolina on November 23, 1942.
Wilhelm was in combat in Europe with the 395th Infantry Regiment of the 99th Infantry Divsion and was awarded the Purple Heart for wounds received during the Battle of the Bulge.
Wilhelm returned to the Mooresville club in 1946 and won 21 games. The following year he won a further 20, and the North Carolina State League all-star was purchased by the Boston Braves in October 1947.
The following month he was drafted by the New York Giants and played in their farm system until making his major league debut on April 19, 1952. In his first major league season, at the age of 29, Wilhelm made 71 relief appearances for an incredible 15-3 won-loss record and 2.43 ERA. Furthermore, in his debut at the Polo Grounds on April 23, he hit a home run in his first at-bat. It was to be the only home run of his career.
In a career that lasted from 1952 to 1972, Wilhelm compiled a 143-122 record with 227 saves and a 2.52 ERA for nine different teams. He was an All-Star in 1953, 1959, 1961, 1962 and 1970. On September 20, 1958, he started a game for Baltimore at old Memorial Stadium and pitched a no-hitter against New York. In 1959, the year after pitching a no-hitter, he was kept in the starting rotation and finished the season with a 15-11 record and a league-leading 2.19 ERA. While his pitch baffled opponents, it terrorized Baltimore's catchers. The team set a record with 49 passed balls.
He pitched for the last time on July 21, 1972, for the Dodgers, retiring a week before his 49th birthday.
When he was elected to the Baseball Hall of Fame in 1985, he was the first relief pitcher to receive that honor.
Hoyt Wilhelm passed away on August 23, 2002 in Sarasota, Florida. He was 79 years old.
Created June 9, 2007. Updated December 24, 2014
Copyright © 2014 Gary Bedingfield (Baseball in Wartime). All Rights Reserved.