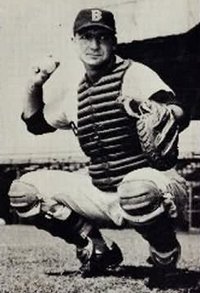 Delbert Q. "Del" Wilber, a scrappy catcher, was born on February 24, 1919 in Lincoln Park, Michigan. His professional career began with the Findlay Oilers of the Ohio State League in 1938, where he hit .304 in 97 games. in 1938. In 1939, still with the Oilers, he batted .332 and led the league with 157 RBIs, prompting a sale to the St. Louis Cardinals' organization.
The 21-year-old spent the 1940 season with the Springfield Cardinals of the Western Association, where he hit .308 in 113 games, and moved up to Columbus of the South Atlantic League in 1941, batting .262 with 10 home runs.
Wilber was just shy of his 23rd birthday when he entered military service with the Army at Fort Custer, Michigan, on February 4, 1942. That summer he was the catcher and manager of the Jefferson Barracks Army Air Force baseball team in Missouri. In a game against Parks Air College on May 17, he hit a three-run home run and two singles in three at-bats to help Jefferson Barracks to a 5-0 victory.
In October 1942, Wilber transferred to Miami Beach, Florida, to attend Officers' Candidate School. He graduated as a lieutenant and was sent to San Antonio Aviation Cadet Center (SAACC) in Texas as a physical instructor in 1943, where he managed the baseball team.
In 1944, playing in the San Antonio Service Baseball League, SAACC featured former Cardinals' Enos Slaughter and Howie Pollet. Wilber hit 13 home runs during the regular season to tie for first with Slaughter and guided the SAACC team to the league playoffs where they defeated Randolph Field in three games for the league title.
Still with SAACC in 1945, Wilber was involved in a controversial incident in which he was accused of roughing up umpire Nemo Herrera. Wilber. As a result of this, he was suspended for 12 games.
Wilber, who attained the rank of captain while with the Army Air Force, was discharged from San Antonio in February 1946. He joined the St. Louis Cardinals during spring training and made his major league debut on April 21. Wilber played just four games that season and was hitless in five plate appearances.
In 1947 he played 51 games with the Cardinals and batted .232. He remained a backup catcher with St. Louis through the 1950 season, when he was drafted by the Philadelphia Phillies. His best season came in 1951 with Philadelphia when he hit .278 with eight home runs and 34 RBIs. His career game also occurred that year on August 27. On the night his daughter, Cynthia, was brought home from the hospital, Wilber hit three home runs in three at-bats in a 3-0 win over the Reds.
Wilber spent eight seasons in the majors and hit .242 with 19 home runs, 115 RBIs and one stolen base in 720 at-bats. During his career, he developed a habit of decorating baseballs for winning pitchers with such things as line scores and cartoons.
Wilber managed in the minors after he retired as a player. When Marty Marion was managing the Chicago White Sox in the mid-1950s, Wilber served as a coach. He scouted for the Twins from 1960 to 1969. In 1970, he served as a coach for the Washington Senators managed by former Red Sox teammate Ted Williams. For two years, he served as the manager of the Senators' AAA team in Denver and moved on to manage Spokane of the Pacific Coast League in 1973.

In 1973, he managed Texas for one game and finished with a perfect 1-0 record as a major league manager.
Del Wilber, who throughout his career enjoyed decorating baseballs for winning pitchers, passed away on July 18, 2002 at St. Petersburg, Florida. He was 83 years old.