Bill Wight
Date and Place of Birth: April 12, 1922 Rio Vista, Calfornia
Died: May 17, 2007 Carmichael, California
Baseball Experience: Major League
Position: Pitcher
Rank: Unknown
Military Unit: US Navy
Area Served: United States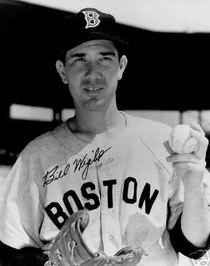 William R "Bill" or "Lefty" Wight was born on April 12, 1922 in Rio Vista, California. He grew up in Oakland, attended McClymonds High School where he was an all-city prep selection for three years and signed a professional contract with Joe Devine of the New York Yankees in 1941.
Wight played for the Idaho Falls Russets of the Pioneer League his rookie season and had an 8-12 record with a 3.83 ERA. He had one of the best pick-off moves in the game, catching dozens of off-guard base runners during his career. Even as a young pro, he was so proficient with his move, he was asked to work with Yankees pitchers and base runners before the 1941 World Series.
In 1942 he played for the Norfolk Tars of the Piedmont League where he was 7-5 with a 2.43 ERA and he also appeared in three games for the Binghamton Triplets of the Class A Eastern League.
In January 1943,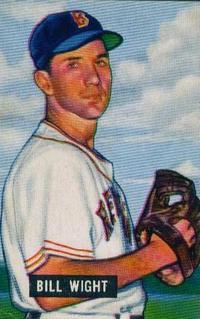 Wight pitched for the semi-pro Ben's Golden Glow club in the Alameda Winter League before entering military service with the Navy. He was stationed at St Mary's Pre-Flight School where – under the watchful eye of coach and future Hall of Famer Charlie Gehringer, he pitched for the Air Devils throughout the summer including a 17-inning, 3 to 2, win over Stockton Army Air Base in which he struck out 24. In another game he stranded five runners off first base with his outstanding pick-off move.
Wight remained at St Mary's until January 1946, also pitching for Bay Meadows in the semi-pro Peninsula Winter League in California. In the spring of 1946 he asked Yankees' manager Joe McCarthy if he could go to Panama with the team. McCarthy agreed to let the 23-year-old tag along and he was impressive enough to spend the season with the major league club, making his debut on April 17. Wight made 14 appearances for the Yankees for a 2-2 record. In 1947 he was with the Kansas City Blues of the American Association where he posted a 16-9 record and 2.85 ERA. In February 1948, he drove to St Petersburg, Florida from his home in Delano, California with wife and young son, unaware he had been traded to White Sox. When he arrived in St Petersburg he was told the news and turned around and drove back to Pasadena. Wight pitched for the White Sox for the next three seasons enjoying his best year in 1949 when he was 15-13 with a 3.31 ERA.
Wight was traded to the Boston Red Sox for the 1951 season and later played for the Tigers, Indians, Orioles, Reds and Cardinals.
Retiring from baseball during the 1959 season, Wight became a real estate salesman in Santa Rosa. Wight spent the next 37 years peering through backstops and filling out scouting reports, with the Astros for five years and with the Braves for the remainder of his scouting career.
With the Astros, he signed Hall of Famer Joe Morgan and as the person overseeing regional scouts for the Braves, he signed two-time National League MVP Dale Murphy. He also signed Bob Horner and Sacramento-products Dusty Baker, Jeff Blauser, Rowland Office, Taylor Duncan and Andy Finlay.
Wight was named Scout of the Year in 1992 and in 2005 was inducted into the San Diego Padres Pacific Coast League Hall of Fame. His plaque is next to Ted Williams at Petco Park in San Diego.
Wight, a resident of Carmichael, California since 1969, was vacationing with his wife of 60 years, Janice, in Mount Shasta when he suffered a fatal heart attack on May 17, 2007. He was 85.
Created September 3, 2007. Updated August 25, 2008.
Copyright © 2008 Gary Bedingfield (Baseball in Wartime). All Rights Reserved.