Burgess Whitehead
Date and Place of Birth: June 29, 1910 Tarboro, North Carolina
Died: November 25, 1993 Windsor, North Carolina
Baseball Experience: Major League
Position: Second Base
Rank: Staff Sergeant
Military Unit: USAAF
Area Served: United States
Burgess Whitehead, one-time member of the St. Louis and New York National league teams, brings his powerful Second Air Force Falcons to Lincoln for a Monday twilight encounter with the Wings.
Nebraska State Journal June 3, 1945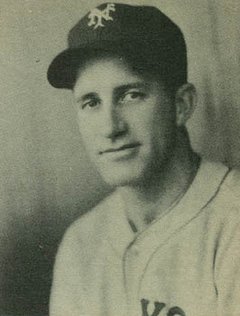 Burgess U "Whitey" Whitehead was born in Tarboro, North Carolina on June 29, 1910. Whitehead attended the University of North Carolina and was a Phi Beta Kappa graduate.
The young infielder's first taste of professional baseball was with the Columbus Red Birds of American Association in 1931. He batted over .300 his rookie year and repeated that performance in 1932. He joined the Cardinals at the start of 1933 and played 12 games before returning to Columbus where he batted .346 as Columbus clinched the American Association pennant.
Whitehead played 100 games with St Louis in 1934 including an appearance in the World Series against the Tigers. He played 107 games in 1935, batted .263 and made the National all-star team.
On December 9, 1935, Whitehead was traded to the Giants. The following season he batted .278. In 1937 he again made the all-star team and played in his third World Series, as well as leading National League second basemen in fielding percentage with a .974 mark.
Everything looked promising for Whitehead, but on February 19, 1938, he had an appendectomy which proved a traumatic experience. The 27-year-old suffered a nervous breakdown and voluntarily retired before the season began.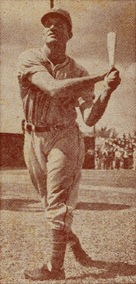 Whitehead remained at home in North Carolina during 1938. His only involvement in baseball that year was the occasional game with a local semi-pro team.
He returned to the Giants in 1939 but had a sub par season batting just .239 in 95 games. In 1940 he cranked his average up to .282, but then dipped to .228 in 1941, prompting the Giants to sell him to the Toronto Maple Leafs in the International League for 1942.
Whitehead had a good season in Toronto and was purchased by the Pirates at the end of the year, but on December 8, 1942, he was inducted in the Army at Fort Bragg, North Carolina.
Staff Sergeant Whitehead served as a physical instructor with the Army Air Force at Daniel Field, Georgia and Miami Beach, Florida. In 1945, he was player-coach for the Second Air Force Falcons at Buckley Field, Denver. The Falcons line-up included Ed Antolini, a former North Carolina University pitcher, Lee Grissom, Eddie Ehlers, a third baseman from Purdue, Jerry Silverman, an outfielder from Oglethorpe University, shortstop Tom Kleppe, Joe Basile, a first baseman with Jersey City, outfielders Irv Austin and Marty Pace, and Gene Ritzenthaler, a Cotton States League catcher.
Whitehead was back with the Pirates in 1946 after three years in military service. He played 55 games in 1946 and batted just .220. Whitehead was 36 years old and his major league had come to an end. He was given his unconditional release by the Pirates in January 1947. He played a couple of years in the minors – including an all-star season with the Jersey City Giants in 1947, before retiring from the game and returning home to North Carolina.
Married with two children, Burgess Whitehead, was the last surviving member of the St Louis Cardinals' Gashouse Gang teams of the 1930s, when he passed away on November 25, 1993 in Windsor, North Carolina. He was 83 years old and is buried at St Thomas Church Cemetery in Windsor.
Created March 22, 2007.
Copyright © 2008 Gary Bedingfield (Baseball in Wartime). All Rights Reserved.