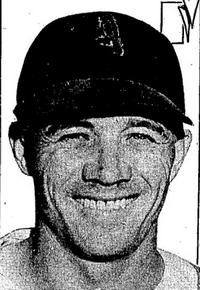 Ernest D "Ernie" White was born on September 5, 1916 Pacolet Mills, South Carolina. He played first base in high school and became a pitcher with the semi-pro team in his hometown of Pacolet.
In 1936, White was signed by Pat Crawford, a St Louis Cardinals' scout. He pitched with Asheville and Columbus in his early seasons. Pitching for Portsmouth in the Middle-Atlantic League in 1938, he struck out 18 in seven innings. With Houston in 1939 he was 15-7 with 149 strike outs in 189 innings. He pitched a 2-0 no-hitter against Fort Worth.
White began the 1940 season with the St Louis Cardinals. He made just eight appearances for a 1-1 record before being sent to Columbus where he was 13-4 with a 2.25 ERA.
White had a superb year with the Cardinals in 1941. He was 17-7 with a 2.40 ERA in 32 appearances. He had 12 complete games and 117 strikeouts
In 1942 he had a 7-5 record with a 2.52 earned run average. However, he was sidelined for part of the season with a sore arm. In the 1942 World Series, he pitched a complete game to get the win against the New York Yankees. White was the first pitcher since 1926 to shut out the Yankees in a World Series game.
In 1943, he was once again troubled with arm problems. White finished with a 3.78 earned run average and 5-5 record.
In January 1944, White was inducted in the Army at Fort Jackson, South Carolina. He took basic training at Fort Bragg, North Carolina, and then moved to moved to Camp Butner, North Carolina in May 1944 with Jake Early and Tom Livingston.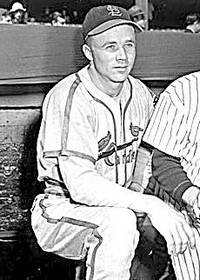 From there, White was assigned to Camp Pickett, Virginia in July 1944, where he played baseball with the 78th Infantry Division team. Commenting on basic training to Jimmie Thompson of the Spartanburg Journal, White said, "It's a lot tougher than baseball training. You do things you'd never dream of doing in a baseball camp or in the nicest nightmare you ever dreamed. But it's taking a lot of surplus off the nation's waistline and it's making fighting men out of the fellows who never thought they'd carry a rifle or throw a hand grenade."
In late-1944, Corporal White was shipped overseas with the 78th Infantry Division. He saw combat in the Battle of the Bulge and was pinned down in icy water for a day.
In March 1945, White was one of two American soldiers who presented arms and fired a volley over the grave of a Russian slave laborer, in Germany.
He returned to the United States at the end of the year and joined the Cardinals for spring training. White's arm was still dead and he was released by the Cardinals on May 13, 1946. He was picked up by the Boston Braves and made 12 appearances, but was ineffective and was released by Boston in May 1947.
White got another shot with the Braves in 1948 and made 15 relief appearances for a 1.96 ERA. Being released for the second time by the Braves in October 1948, marked the end of Ernie White's major league career.
White managed in the minor leagues for many years. He was a scout with the Braves in 1958 and resurfaced in the majors in 1963 as a pitching coach with the New York Mets.
Ernie White passed away at a hospital in Augusta, Georgia on May 22, 1974, following a knee operation. He was just 57 and is buried at Pacolet Memorial Gardens.
Created June 20, 2007.
Copyright © 2008 Gary Bedingfield (Baseball in Wartime). All Rights Reserved.