Wes Westrum
Date and Place of Birth: November 28, 1922 Clearbrook, Minnesota
Date and Place of Death: May 28, 2002 Clearbrook, Minnesota
Baseball Experience: Major League
Position: Catcher
Rank: Unknown
Military Unit: US Army
Area Served: United States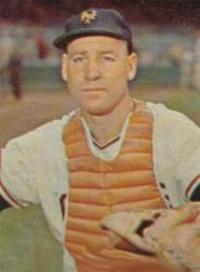 Wesley N "Wes" Westrum was born on November 28, 1922 in Clearbrook, Minnesota. He was signed by the Minneapolis Millers of the American Association and played for Eau Claire of the Northern League in 1941, where he was an all-star catcher, hitting .330. There was talk of him moving to the outfield for 1942, but he remained behind the plate and helped Little Rock win the Southern Association pennant.
Westrum was recalled by Minneapolis for 1943 and remained with the team until entering military service in 1945. Westrum served with the Army at the disciplinary barracks in Greenhaven, New York, somewhere he described as a "place for difficult cases." Westrum managed the Guards baseball team while at Greenhaven.
He returned to the Minneapolis Millers in 1946 and the following year he batted .294 with 22 home runs to earn promotion to the major leagues. Westrum joined the New York Giants in September and played six games, collecting five hits in 12 at-bats.
Westrum spent 1948 and 1949 between New York and Minneapolis. He hit five grand slams in 1949 to set an International League record.

In the majors, he was the Giants' catcher in the 1951 and 1954 World Series and made the All-Star game in 1952 and 1953. In his career, he hit .217 in 11 seasons. His best season came in 1951 when he hit .236 with 23 home runs and 71 RBIs for the Giants. In 1952, he hit .219 with 20 home runs and 70 RBIs.

One of his best single games came on June 24, 1950, when he hit three home runs and a triple to help lead the Giants over the Reds, 12-2.

Westrum remained with the Giants when the team moved from New York to San Francisco and served as a coach from 1958 to 1963. In 1964, he returned to New York to join the staff of the Mets. When manager Casey Stengel broke his hip in 1965, Westrum replaced him for the remainder of the season. He managed the Mets for the next two years and finished with a combined record of 142-237. In September 1967, he stepped down from the Mets and was replaced the next season by Gil Hodges.

In 1974, he became the manager of the Giants and finished 118-129 in two seasons. His career managerial record is 260-366. Following his term with the Giants, he became a scout for the Atlanta Braves until he retired in 1992.

Westrum was 79 and living at a care facility in Clearbrook, Minnesota when he lost his battle with cancer on May 28, 2002.
Created June 9, 2007.
Copyright © 2008 Gary Bedingfield (Baseball in Wartime). All Rights Reserved.