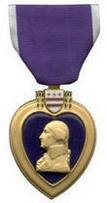 Tommy Warren
Date and Place of Birth: July 5, 1917 Tulsa, Oklahoma
Died: January 2, 1968 Tulsa, Oklahoma
Baseball Experience: Major League
Position: Pitcher
Rank: Unknown
Military Unit: US Navy
Area Served: Mediterranean Theater of Operations
Tommy Warren, who saw action at sea and was wounded during a commando raid at Casablanca, was the first player with overseas combat experience in World War II to appear in a major league game when he pitched for the Brooklyn Dodgers on opening day against the Phillies in 1944.
Thomas G "Tommy" Warren was born on July 5, 1917 in Tulsa, Oklahoma. His father, a semi-pro player for many years, was manager of the Frisco Railroad team in Tulsa when Tommy was growing up and he was the team's bat boy, mascot and fly shagger.
Warren played baseball at Tulsa High School and in 1936 joined the Tulsa Safeways, a semi-pro team which made it to the finals of the state tournament.
In 1937, Warren was playing for the Texas Oil Company and signed a professional contract to play with the Midland Cardinals in the Class D West-Texas New Mexico League in 1938. His record on the mound with the Cardinals was 13 and 11. Warren's contract was assigned to the Abilene Apaches of the same league for 1939, but he was released in April and returned to semi-pro baseball with a team in Perry, Oklahoma.
In late 1941, Claude Jonnard, manager of the Amarillo Gold Sox in the West Texas-New Mexico League brought Warren in from the semi-pro ranks to help his club get into the playoffs. He pitched two games and won both, and hit .321 playing the outfield when he wasn't pitching.
On December 8, 1941, Warren put his baseball career on hold enlisting in the Navy. "I wanted to get in because I knew my younger brother, Larry, was on the aircraft carrier Saratoga, at Pearl Harbor," he told The Sporting News on March 16, 1944.
Warren trained at the Norfolk Naval Training Station in Virginia, and was then assigned to convoys across the Atlantic. He served on the battleship USS Texas, and was at Iceland, England, Gibraltar and Oran.
It was at Casablanca in November 1942 that Warren volunteered for a commando landing unit. On a later mission he was badly wounded and suffered shellshock.
Warren was returned to the United States to convalesce and spent 10 months at St Albans Naval Hospital in New York. He was honorably discharged from the Navy in September 1943.
"The situation is normal at Brooklyn," wrote J G T Spink in The Sporting News, "- again the Dodgers have come up with the unusual. This time it's a sailor who reported at the Bear Mountain camp wearing a pair of red leather cowboy boots. But that's not the half of it. The newcomer [Warren] is the first wounded veteran of World War II to join a major league club as a player."
Warren looked good in spring training. He threw a number of scoreless innings in spring exhibition games and was determined to secure a place on the Dodgers' roster. "He talks as fast and free as Dizzy Dean," Spink observed. "To prove he can run, he has bet Branch Rickey Jr, he can beat any Dodger in spring camp, to prove he can hit and pitch, he offers a scrapbook full of newspaper evidence that he has out pitched Satchel Paige and has hit homers with the bases full." His scrapbook was proudly kept up-to-date by his girlfriend, Frances Hammond, who worked in the planning department of Douglas Aircraft in Tulsa.
Warren's efforts paid off and the Dodgers kept him on their roster for opening day. "I'll be pitching for the boys overseas," he remarked. "They want baseball to continue and I'll certainly try to do my share."
Warren made his major league debut on opening day, April 18, making a relief appearance against the Phillies in Philadelphia. He was optioned to Montreal for part of the season but returned to Brooklyn in July. He pitched in 22 games during the regular season for the Dodgers, primarily as a reliever, and finished with a 1-4 record and 4.98 ERA. His lone win came on July 30, in the first game of a double-header at Ebbets Field. He was the starting pitcher in a 10-4 victory against the St. Louis Cardinals. He also made 19 appearances as a pinch hitter that year and finished with a .256 batting average.
Warren was with the Dodgers farm club at Montreal in the International League in 1945, and joined his hometown Tulsa Oilers of the Texas League in 1946. He spent three years with the Oilers and won 40 games during that time.
Warren later served as a deputy sheriff in Tulsa, and pitched for Monterrey in the Mexican League in 1950. But all this time he was getting into serious financial difficulty brought around through an addiction to gambling. In February 1949, while still a deputy sheriff in Tulsa, Warren set up a scam involving new cars. He convinced people to part with money on the promise they would receive a new automobile from a friend in the trade in Detroit. The cars never appeared and Warren lost the money gambling on horse races, prize fights and basketball games.
During the summer of 1951, he played for the Miami Eagles in the K-O-M League while free under a $3,000 bond. In April 1952, he was convicted of larceny by fraud and sentenced to three years at McAlester State Prison. But even a prison sentence couldn't stop Warren playing baseball as he was soon pitching for the McAlester Outlaws under the guidance of prison athletic director Norman Rowan.
Warren was released from prison in February 1953, and joined the semi-pro Temple Eagles in Texas. Later that year he joined the Corpus Christi Aces of the Gulf Coast League, appearing in 18 games with a 6-5 record.
In 1954 he was appointed player-manager of the Seminole Oilers of the Sooner State League. Warren was 11-1 on the mound for the Oilers and batted .366 as an outfielder but the team was in sixth place when he was released in June, and he signed as player-manager with the Borger Gassers of the West Texas-New Mexico League on June 24. "Warren comes to the Gassers highly recommended as a manger and a pitcher," announced the Borger board of directors in the Abilene Reporter-News on June 25, 1954. "He has a reputation of producing a hustling ball team." The Borger Gassers disbanded at the end of the season.
Tommy Warren died January 2, 1968 in Tulsa, Oklahoma, due to a self-inflicted shotgun blast to the chest, leaving a note citing ill health as the reason. He was just 50 years old and is buried in Memorial Park in Tulsa.
Thanks to Jim Wheeler for help with this biography.
Created June 16, 2007.
Copyright © 2008 Gary Bedingfield (Baseball in Wartime). All Rights Reserved.