Eddie Waitkus
Date and Place of Birth: September 4, 1919 Cambridge, Massachusetts
Died: September 16, 1972 Jamaica Plain, Massachusetts
Baseball Experience: Major League
Position: First Base
Rank: Sergeant
Military Unit: 544th Engineer Boat & Shore Regiment, 4th Engineer Special Brigade US Army
Area Served: Pacific Theater of Operations
Eddie Waitkus, Chicago Cubs rookie infielder, revealed today that he has been drafted into the army.
International News Service February 5, 1943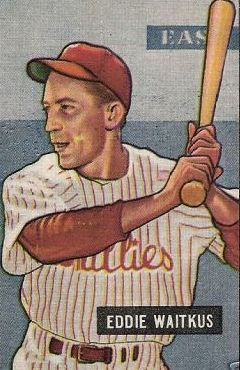 Edward S "Eddie" Waitkus was born on September 4, 1919 at Cambridge, Massachusetts. He was an excellent student, fluent in Lithuanian, Polish, German and French. After graduating from Latin High School in Cambridge, the naturally gifted left-handed first baseman, played briefly at Boston College and for Lisbon Falls, Maine in the National Semi-Pro baseball tournament at Wichita, Kansas, before signing with the Chicago Cubs in 1939.
He played for Moline of the Three-I League in 1939 and joined Tulsa of Texas League in 1940, remaining there for 1941 and appearing in 12 late-season games for Chicago. He went to spring training with the Cubs in 1942 but was farmed to the Los Angeles Angels in the Pacific Coast League where he finished third in the league with a .336 batting average and led the circuit with 235 hits.
Waitkus was again invited to the Cubs spring training camp in January 1943, but the following month he was drafted and joined the US Army.
Corporal Waitkus served at Camp Edwards, Massachusetts with the Army engineer amphibian command. Playing baseball for the Camp Edwards' team, the left hander broke his right arm in the first inning of a game when he collided with another player.
In 1944, Waitkus was in the Pacific with the 544th Engineer Boat & Shore Regiment, 4th Engineer Special Brigade. He was at Bougainville, New Guinea in March 1944, and then in September 1944, he took part in the amphibious landings at Marotai in the Dutch East Indies. In November 1944, National League president Ford Frick received a letter from Waitkus describing the operation as being "like stealing home in a ball game. If it worked, swell! If it failed, it looked idiotic.
"As the boats circle and head for shore," he continued, "you get a feeling like opening day. You check your rifle a hundred times. I was in one of the first waves. We hit in deep water, had to go in over our heads. It's a seemingly endless stretch through the water to the shore, but finally we made it. "A machine gun got a Jap sniper pinned up in a tree just as we hit. On shore there wasn't much opposition, and right now, things are coming under control. I can't help but respect the men who planned this one, the strategy that gave us the benefit of the element of surprise and saved a lot of lives.
"I don't know where or when we hit again. All our bats, balls and gloves are packed away. The fellows would like to break them out in the Philippines, but that's up to the fates and General MacArthur. All I can say about the place we hit is that, it's in the Netherlands East Indies. Nothing like Wrigley Field, either!"
In January 1945, Waitkus was a part of the landings at Lingayen in the Philippines. He again wrote to Frick describing the operation:
Dear Mr Frick. Chalk up another landing, and more points for a discharge when this is over. This operation was really big league. Our convoy coming here was under constant attack. We had our first experience with suicide bombing, and our navy fliers giving us cover did a terrific job of assisting the bombers to the suicide they wanted.
The pre invasion bombardment was a thing of beauty if you were watching it from our side. I got through the landing with the loss of nothing worse than a steel helmet and a lot of dignity when my pack got caught in a rope ladder going over the side.
After the shelling, the natives started to drift back, and to say they were glad to see us is putting it mildly. The Japs gave them a bad time. Most of them can talk English even the kids even play scrub with a ball weaved from palm leaves… For other details of what is going on now see your papers. They probably know more than I do. No mail has been around for about two weeks so we might as well be in a world of our own.
Not much more to add now, so I'll close with my latest brain storm. If you could bring the games better known stars back from overseas (Greenberg, Lewis, etc) to play a war bond game in, say New York, admission by bond, I'll bet a Jap peso you could sell a billion dollars worth. Nothing like ideas to while away the hours.
Sincerely – Ed Waitkus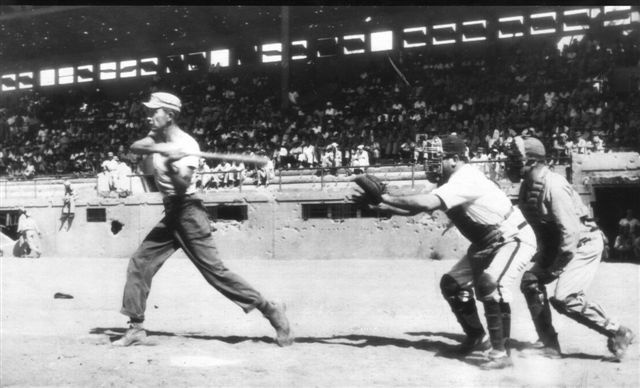 Waitkus at bat in a game against the Navy at Rizal Stadium in the Philippines, May 1945
Waitkus had had little time for baseball but in the Philippines he did get into a few games. "We got beat," he told a friend in a letter describing a game against the 145th Infantry, "but I got 3 for four and had a good day. Ran into Morrie Arnovich here. If we don't move out we're playing his team soon. It's supposed to have been the first game played here since the Japs came about three years ago. It was swell to play again, and we'll have plenty of baseball for a while at least."
In a game against the 594th Engineer Boat & Shore Regiment, Waitkus later remembered how $60,000 was wagered by soldiers from the two units. Just before the game he met Fred Martin, a Cardinals' pitcher who was with a field artillery unit that had no connection with either of the contending regiments.
"I had no trouble getting him to agree to pitch," Waitkus recalled. "Martin didn't belong to our regiment, but we made it legal by having him attached to the 544th for rations and quarters. He pitched a great game for us, winning 1-0."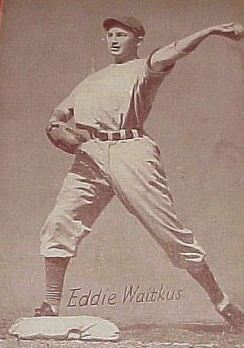 Sergeant Waitkus returned home in 1945 and went to spring training with the Cubs in 1946. He had been out of organized baseball for three seasons but easily beat out Phil Cavarretta for the first base job. He had an outstanding rookie season and batted .304 in 113 games. On June 25, 1946, the Cubs played the Braves at Boston and a delegation from his hometown of Cambridge, Massachusetts, presented the slick fielding first baseman with a brand new automobile. He responded with a double to center his first time up in the Cubs' 7-3 win.
In December 1946, Waitkus was voted Rookie of the Year by the Baseball Writers' Association of America.
Waitkus hit .292 in 1947 and .295 in 1948 as an all-star selection. He was traded to the Phillies for 1949 and was the victim of one of the most bizarre incidents in baseball history.
Ruth Ann Steinhagen, a 19-year-old from Chicago, was obsessed with Waitkus, and plotted his murder and her suicide to keep others from possessing him. On June 14, 1949, Steinhagen checked into the Edgewater Beach Hotel in Chicago, where the Phillies' players were staying. She gave a note to a bellhop to give to Waitkus asking him to come to her room to discuss important business. Believing the note to be valid, Waitkus went to Steinhagen's room where she met him with a .22 rifle and shot him.
Waitkus survived but underwent five operations*. Amazingly he was back with the Phillies the following season. He remained with the Phillies through 1953 and was sold to Baltimore in 1954, retiring from the game after the 1955 season, aged 36.
Eddie Waitkus led a quite life in retirement. In later years he was an instructor at Ted Williams' summer baseball camp. He had been working as a floor manager at a department store in Waltham, Massachusetts, until he died from cancer of the esophagus at the Veterans Administration Hospital in Boston on September 16, 1972. He was 53 years old.
*Steinhagen was declared insane and sent to the state mental hospital in Kankakee. The Waitkus shooting was to be the inspiration behind Bernard Malamud's novel, The Natural, which later became a movie featuring Robert Redford.
Created March 7, 2007. Updated March 12, 2011.
Copyright © 2011 Gary Bedingfield (Baseball in Wartime). All Rights Reserved.