Charlie Wagner
Date and Place of Birth: December 3, 1912 Reading, Pennsylvania
Died: August 31, 2006 Reading, Pennsylvania
Baseball Experience: Major League
Position: Pitcher
Rank: Unknown
Military Unit: US Navy
Area Served: Pacific Theater of Operations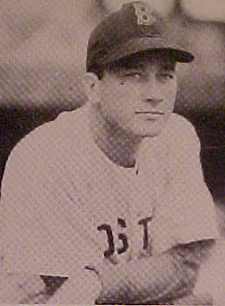 Charles T "Charlie" Wagner was born on December 3, 1912 in Reading, Pennsylvania. He made his professional debut with Charlotte of the Piedmont League in 1935. He was 20-14 with Rocky Mount of the same league in 1936, and matched that record with Minneapolis of the American Association in 1937.
Wagner made his major league debut with the Boston Red Sox on April 19, 1938, splitting the season between Boston and Minneapolis. He made another handful of appearances with the Red Sox in 1939 and also spent time with Louisville, repeating that pattern in 1940.
Wagner became a regular of the Boston pitching staff in 1941, and was 12-8 in 29 appearances, including 25 starts, and his 3.07 ERA was third best in the American League. In 1942 he was 14-11 and was just coming into his own before military service beckoned in November 1942. He served with the US Navy at Norfolk Naval Training Station, Virginia, in 1943 and pitched in the Navy World Series against Norfolk Naval Air Station that summer. He was the losing pitcher in Game One and Game Six.
He later served in the Philippines and contracted a serious case of dysentry. He lost 30 pounds and was still very weak when he attended spring training with the Red Sox in 1946. Wagner was 29 when he left for military service, and 33 when he returned. He made just eight ineffective appearances for Boston before being released at the end of the season.
"My best years were spent in the service," he later said. "To lose those three years when you felt yourself coming on was hard."
Following his retirement, Wagner became a scout for the Red Sox. He coached the team in 1970, and later worked as a special assignment instructor in the Red Sox minor league system. He was a regular feature at the ballpark of his hometown Reading Phillies, where the press box was named in his honor in 2000, and he was inducted in the Reading Baseball Hall of Fame in 1992.
Charlie Wagner passed away on August 31, 2006, after suffering a heart attack in his car following a Reading Phillies game. He was 93 years old.
Created February 13, 2008.
Copyright © 2008 Gary Bedingfield (Baseball in Wartime). All Rights Reserved.