Date and Place of Birth: November 2, 1914 Prospect Park, New Jersey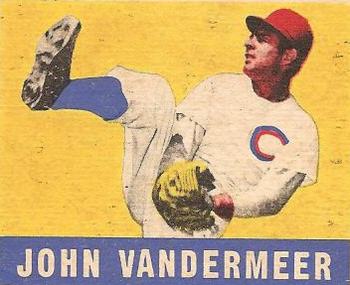 John S "Johnny" Vander Meer was born on November 2, 1914 in Prospect Park, New Jersey, and grew up at nearby Prospect Park. He signed with the Brooklyn Dodgers organization in 1933 and pitched for Dayton of the Middle-Atlantic League his rookie year where he was 11-10 with a 4.28 ERA.
In 1934, he advanced from Class C to Class A ball with Scranton of the New York-Pennsylvania League during which time the Boston Braves purchased him. In December 1935, he was purchased by the Cincinnati Reds and was with Nashville of the Southern Association in 1936. Vander Meer made his major league debut with the Reds on April 22, 1937. He was 3-5 in 19 games and spent part of the season with Syracuse of the International League.
Vander Meer secured a place in the game's history in 1938 by throwing the only major league back-to-back no-hitters. On June 11, 1938, he defeated the Boston Bees, 3-0. Four days later in the first night game ever played at Ebbets Field, he no-hit the Brooklyn Dodgers, 6-0. Interestingly, his no-hitters came against teams whose organizations he used to play for. Vander Meer finished with a 15-10 record that year, a 3.12 ERA and a one-hit, three-inning winning performance in the All-Star game.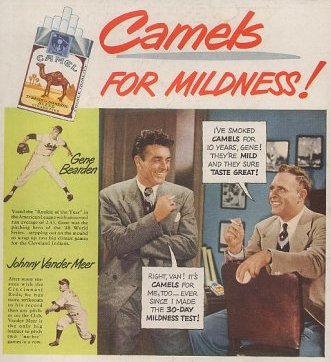 He was just 5-9 with a 4.67 ERA in 1939 and split the 1940 season between Cincinnati and Indianapolis of the American Association. He returned to form in 1941 with a 16-13 record. In 1942, he was 18-12 and was 15-16 in 1943.
Vander Meer had won the National League strikeout crown for three straight years (1941 to 1943) when he entered military service on March 3, 1944. "I might've had a shot at the strikeout crown for about five consecutive years," he later said.
He served with the Navy at the Sampson Naval Training Center, New York, where he was assigned to the Welfare Recreation Dept and regularly pitched for the ball team. On June 5, 1944, Sampson beat the Boston Red Sox, 20 to 7. After a shaky first inning in which Vander Meer allowed three runs, he hurled scoreless ball until the eighth when Hal White replaced him. He also had three hits on the day.
The Sampson team finished with 26 wins and one loss in 1944. Then, in September of that year, Vander Meer left for Hawaii where he was immediately put into action in the Army-Navy World Series. Pitching in Game Two, he allowed only seven hits and beat the Army team, 8-2. He then won Game Five, allowing just five hits in the 12-2 win. With the Series won by the Navy, the tow teams continued to play games for the entertainment of servicemen and Vander Meer was finally beaten in Game Nine. Although he allowed only five hits, his team made five errors and was beaten 6-5.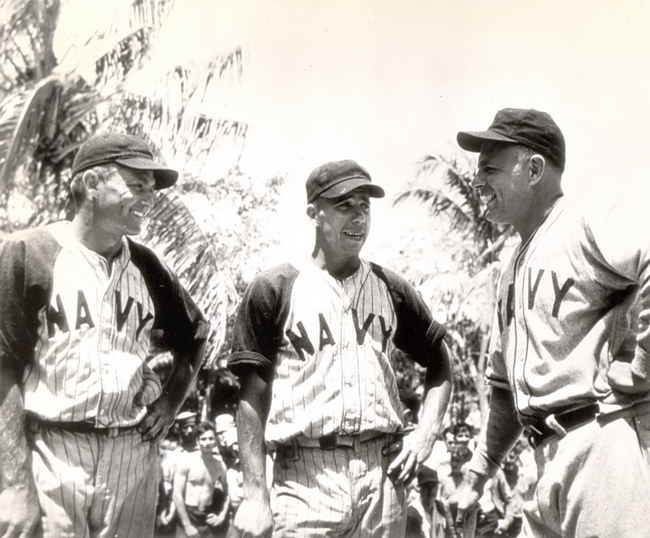 Johnny Vander Meer (right) with May and Pee Wee Reese in the Pacific
During 1945, Vander Meer toured the Pacific with the Fifth Fleet ball team and was stationed for much of the time at Guam. He was discharged from service on December 20, 1945 and returned to the Reds for spring training in 1946. The 31-year-old southpaw was 10-12 that year. He enjoyed his best post-war season in 1948, when he was 17-14 with a 3.41 ERA. He finished his major league career with the Chicago Cubs in 1950 and the Cleveland Indians in 1951. He hurled a no-hitter in the minors with Tulsa of the Texas League in 1952 and finally hung up his glove in 1956 after pitching for Burlington, Colonial Heights, Daytona Beach and Douglas.
Vander Meer managed in the Cincinnati organization until retiring from baseball in 1963, and worked for 20 years for the Schlitz Brewery company as a military sales manager.
Johnny "Double No-Hit" Vander Meer died of an abdominal aneurysm at his home in Tampa, Florida on October 5, 1997. He was 82.
Created March 17, 2008.