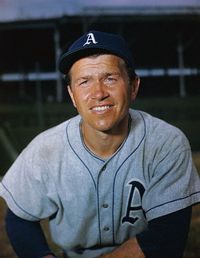 Elmer W Valo was born on March 5, 1921 in Rybnik in the Slovak Republic. His family emigrated to the United States when he was six years old and settled in Palmerton, Pennsylvania. He played baseball for the American Legion Junior team at Lehighton and then played in the independent East Penn League.
Valo was signed by the Philadelphia Athletics and played for Federalsburg of the Eastern Shore League in 1939. In 1940, he was with Wilmington in the Inter-State League, leading the circuit with a .364 batting average and playing six games at the end of the season with the Athletics.
Valo played a further 15 games for the Athletics in 1941 and became a regular with the team in 1942, appearing in 133 games and batting .251.
Valo played 77 games in 1943 before entering military service in August. He served with the Army at New Cumberland Reception Center where he played baseball at the end of the summer and played guard with the basketball team during the winter.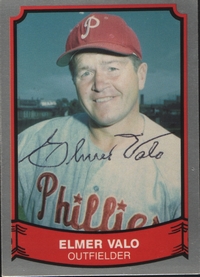 He was assigned to Camp Siebert, Alabama in 1944, where he continued to play baseball regularly during the summer months with teammates Ducky Detweiler, Vic Wertz and Pat Mullin. Later in the year he was at Camp Barkeley, Texas, where he graduated from Officers' Candidate School and was commissioned as a second lieutenant in the Medical Administration Corps in December 1944.
Valo was at Camp Patrick Henry, Virginia in 1945 and was discharged from service in April 1946. He returned to the Athletics and played 108 regular-season games, batting an excellent .307.
Valo continued to bat .300 or batter over the next two seasons and remained with the Athletics when they moved to Kansas City in 1955. He was released by the club in May 1956 and signed as a free agent by the Phillies. He continued to play in the major leagues until 1961, appearing in a total of 1806 games for a .282 lifetime average.
In 1960, Valo set a major league pinch-hitting season record for games, walks and times on base. He also set a major league career-record with 91 walks for a pinch-hitter.
After his playing career ended, he was a Cleveland Indians coach in 1963 and 1964. Valo was a scout for the Philadelphia Phillies from 1969 to 1982. He was inducted into the Phillies' Wall of Fame, at Veterans Stadium in 1990.
Elmer Valo passed away at Palmerton Hospital in Palmerton, Pennsylvania, on July 19, 1998. He was 77 years old.
Thanks to Mel Marmer for help with this biography.
Created July 27, 2007. Updated November 21, 2007.
Copyright © 2008 Gary Bedingfield (Baseball in Wartime). All Rights Reserved.