Bob Usher
Date and Place of Birth: March 1, 1925 San Diego, California
Baseball Experience: Major League
Position: Outfield
Rank: Unknown
Military Unit: US Navy
Area Served: Pacific Theater of Operations
Robert R "Bob" Usher was born on March 1, 1925 in San Diego, California. A high school baseball star, he was signed at 17 by the Cincinnati Reds in 1943. Usher had been a leading pitcher on his school team and also for San Diego Post 6 American Legion team that won the national crown in 1941.
A good hitter and speedy runner, the Reds signed him as an outfielder. At spring training with Cincinnati, he finished second in the 6-yard dash staged in connection with the annual relay meet of Purdue University on March 27. Jim Russell of the Pirates beat him.
Usher played for Birmingham of the Southern Association in 1943. Between sprint contests against other players in the league, he batted .273 for the Barons.
Usher entered military service with the Navy in 1944. He was assigned to Aiea Barracks in Hawaii, where he regularly played baseball. He transferred to Kaneohe Bay Naval Air Station on Oahu in 1945, where he played right field for the Klippers under the guidance of Red Sox pitcher Joe Gonzales.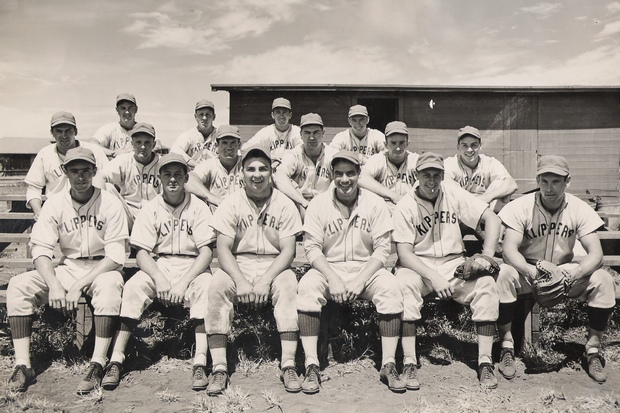 NAS Kaneohe Klippers in 1945
Usher returned from military service at the beginning of 1946 and made the Cincinnati roster for the start of the season. His major league debut was on April 16, and he played 92 games but batted only .204.
In need of seasoning, Usher played for Rochester of the International League in 1947, Tulsa in 1948 and Syracuse in 1949, where he batted .287 with 14 home runs and 81 RBIs.
Aged 25, Usher returned to the Reds in 1950 for 106 games and hit six home runs while batting .259. In 1951, he played 114 games but his average slumped to .208. Traded to the Chicago Cubs in the off-season, he was back in the minors in 1952 and spent the next five seasons in the Pacific Coast League with Los Angeles and San Diego.
With the Padres in 1956, he batted .350, hit 12 home runs and drove in 74, good enough to earn a recall to the major leagues. He joined the Cleveland Indians at the start of the 1957 season and played ten games before being traded to Washington. In his best season in the majors, Usher played 96 games for the Senators and batted .261. Nevertheless, he returned to the minor leagues in 1958 and played his last season with Miami of the International League.
Created January 30, 2008.
Copyright © 2008 Gary Bedingfield (Baseball in Wartime). All Rights Reserved.