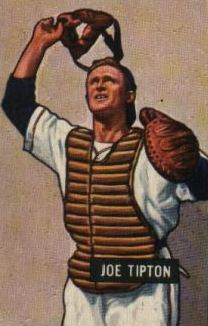 Joe H Tipton was born in McCaysville, Georgia on February 18, 1922. A shortstop on the sandlots of McCaysville, he was signed by the Cleveland Indians in 1941 and played the outfield with the Appleton Papermakers of the Wisconsin State League that year. In 1942 he joined the Charleston Senators of the Mid-Atlantic League and batted .313 in 81 games.
Tipton lost the next three years to military service, serving with the Navy aboard the escort carrier USS Kadashan Bay (CVE-76) in the Pacific. He was at Leyte, Okinawa and Iwo Jima, and survived a kamikaze attack on January 8, 1945, when the Kadashan Bay was hit amidships directly below the bridge. After an hour and a half of feverish damage control effort, fires and flooding were checked.
Tipton returned to professional baseball in 1946. "When I came back for the 1946 season," he told The Sporting News on March 10, 1948, "I knew I'd have to work harder than ever. I had been off the diamond so long. He was with the Harrisburg Senators of the InterState League that season and the hard work paid off. Spending time in the outfield as well as learning to work behind the plate, Tipton batted .327 in 104 games. In 1947, having converted to catcher full-time, he led the Eastern League with a .375 batting average playing for the Wilkes-Barre Barons. He joined the Indians in 1948, making his major league debut on May 2 and played 47 games as a back-up for Jim Hegan, appearing in one game of the World Series against Boston.
Tipton was traded to the White Sox for 1949 and joined the Philadelphia Athletics in 1950. He was back with the Cleveland Indians in 1952 and ended his major league career with the Washington Senators in 1954. Tipton finished his professional playing days with the Memphis Chicks of the Southern Association in 1955 and went on to manage the Panama City Fliers of the Alabama-Florida League in 1958.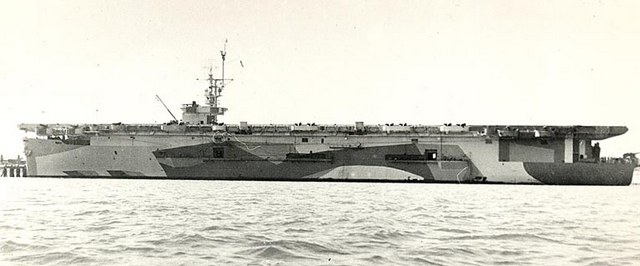 The escort carrier USS Kadashan Bay (CVE-76)
Joe Tipton passed away in Birmingham, Alabama on March 1, 1994. He was 72.