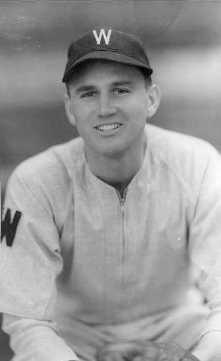 Louis C F "Lou" Thuman was born on December 13, 1916 in Baltimore, Maryland. The Baltimore Polytechnic Institute graduate was working at the Glenn Martin airplane factory and playing third base for the Apaches, a local amateur ball club, when scout Joe Cambria spotted him. Cambria was impressed with the youngster's arm speed and he was signed as a pitcher by the Washington Senators.
Thuman broke in with York in 1936. He was with Salisbury in the Eastern Shore League, Greenville of the South Atlantic League and St Augustine in the Florida State League before joining the Washington Senators in September 1939. He made three relief appearances for the Senators that year and a further two in 1940. Only control problems appeared to stand in the youngster's way. "If I can improve that," he said at the time, "I think I can give the hitters trouble with my fast one."
The 6-foot-two righthander was pitching for the Charlotte Hornets of the Piedmont League in 1940 when he was drafted by the Army in April 1940 - one of the first major league players to go into the service.
Thuman served with the 175th Infantry Regiment, 29th Infantry Division, and arrived in England in February 1943. He played very little baseball in the Army but, while in England, became interested in darts. He bought his own set and became pretty good. However, he did appear in one game - an Army-Airforce all-star game that was staged at Wembley Stadium, London, before a crowd of 21,500 on August 3, 1943. Thuman pitched two innings in relief against the victorious Air Force team and allowed two hits but no runs.
In 1944, shortly after D-Day, the 175th Infantry was sent France and during action in the St Lo area, he was hit in the right shoulder by a sniper's bullet. It was the end of Thuman's war and the end of his baseball career. Thuman was spent the remainder of the year in a military hospital in Europe and was shipped back to the United States in December 1944. He convalesced in Washington state and returned home to Baltimore in May 1945. He tried to play again but the bullet has taken away his fastball. Devastated, Thuman took a clerical job with Bethlehem Steel in Baltimore to avoid the game, and never used the "gold pass" he was given that allowed free access to any major league or minor league ballpark.
Thuman almost never watched or listened to ballgames, he owned no baseball caps and never met with his former teammates. The one concession to his ball-playing past was to honor the requests of fans and memorabilia collectors who wrote him seeking autographs. He always kept a supply of photos of himself as a player which he would sign and send to fans.
"I am 79 years old now and in good shape, except for throwing a curve ball," Thuman told me when I contacted him about his military service in 1996.
Lou Thuman died of pneumonia at the Dulaney-Towson Health Care Center in Baltimore on December 19, 2000. He was 84 years old and was buried at Holy Redeemer Cemetery in Baltimore on December 22, following services at St Pius X Church.
Thanks to the late Lou Thuman for help with his biography.
Created February 5, 2007. Updated August 20, 2007.
Copyright © 2013 Gary Bedingfield (Baseball in Wartime). All Rights Reserved.