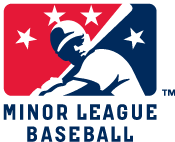 Gene Thompson
Date and Place of Birth: September 14, 1921 Needles, California
Died: August 7, 1996 Yucaipa, California
Baseball Experience: Minor League
Position: Outfield
Rank: Sergeant
Military Unit: 369th Bomb Squadron, 306th Bomb Group USAAF
Area Served: European Theater of Operations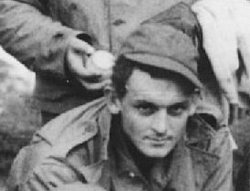 Eugene B "Gene" Thompson Jr was born in Needles, California on September 14, 1921. He graduated from Needles High School in 1938 and was signed by the Hollywood Stars in 1940, at the age of 18. The Stars sent 6-foot-2-inch 190-pound outfielder to the Salina Millers in the Western Association, where he hit .279 in 125 games with 12 home runs and 82 RBIs.

While his namesake, Gene "Junior" Thompson, was pitching for the Cincinnati Reds, Thompson was with San Bernardino and Santa Barbara in the California League in 1941 where he produced 90 RBIs with a .284 batting average in 127 games.

Military service beckoned on January 8, 1942, and Thompson trained with the Army Air Force at Shepherd Field, Texas and Lowery Field in Denver, Colorado.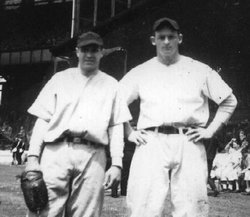 In September 1942, Corporal Thompson was sent to England where he served with the 306th Bomb Group as an athletic director and armorer at Thurleigh.

Thompson had only been in England for a couple of months when he was commended for "heroism displayed in rescuing an elderly man and woman from drowning at Bedford, England, 11 November 1942." The commendation, dated December 23, 1942, continued. "Hearing cries for help emanating from the river Ouse, Corporal Thompson, with complete disregard for his own safety, plunged into the river and succeeded in bringing the drowning man and woman to shore, and administered artificial respiration until arrival of an ambulance. The heroism displayed upon this occasion reflects highest credit upon Corporal Thompson and Armed Forces of the United States."

In 1943, Thompson began playing baseball with the 306th Bomb Group. The 306th fielded a strong team with Thompson playing center field and major leaguer, Paul Campbell, at first base. In August 1943, he was selected to play with the Eighth Air Force All-Stars – a team of professionals who were led by former Senators' pitcher, Montie Weaver. The Eighth Air Force defeated a hand-selected team of Army professionals, 1-0, on August 3, thanks to Bill Brech's outstanding no-hitter. The team then toured military bases throughout Britain playing a total of 29 exhibition games. Thompson played 28 games and batted .522 with five home runs. He also pitched and won five games.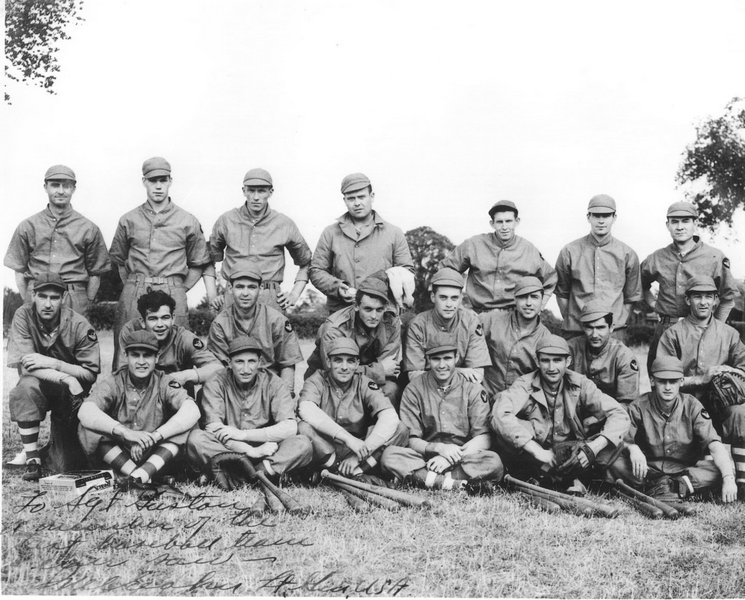 Eighth Air Force All-Professional All-Stars in England 1943 (Thompson is middle row, fourth from left)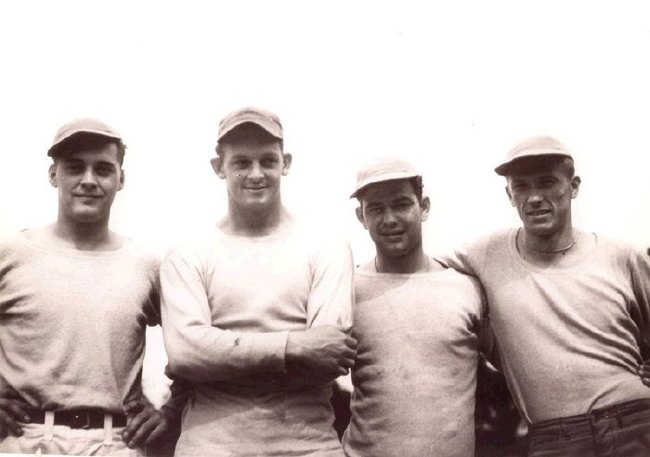 Gene Thompson (second from left) with Ross Grimsley, Nick Fracaro and Bill Brech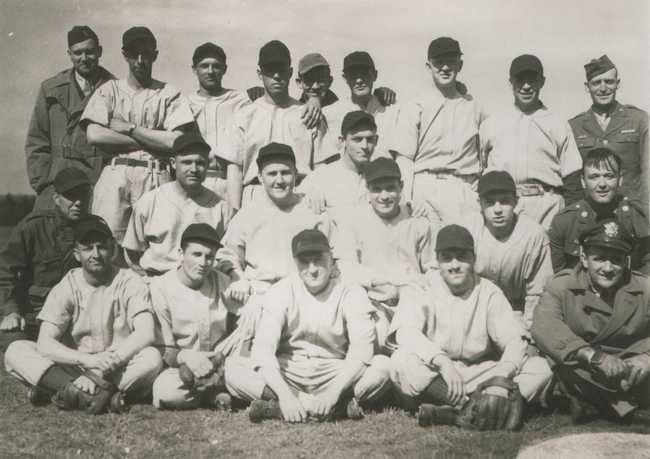 306th Bomb Group team (Thompson in center. Paul Campbell is second row, fourth from left)
Thompson returned to the United States in November 1945. Still the property of the Hollywood Stars, he played for the Yakima Stars of the Western International League in 1946, batting .301 in 122 games. Thompson remained with Yakima in 1947 and played the winter of that year down in Hermosillo, Mexico, where he made the all-star team. The Hollywood Stars ended their affiliation with the Yakima team after 1947, but Thompson remained with the independent ball club for another two years. In four seasons with Yakima, Thompson never batted below .300.
In 1950, Thompson joined the Victoria Athletics in the Western International League. "That was my best year," Thompson recalled. "I hit .334 with 24 homers, 36 doubles, 106 RBIs and 101 walks."
The following year, 1951, was to be his last in baseball. He batted .298 with Victoria in 110, and quite when the season finished. "My problem was I played the game for fun, both on and off the field," Thompson recalled. "I loved it, but couldn't really get serious. I never took advantage of my ability, never made much money, but sure did have fun.
"When my first son was born, I had to get serious, so I quit baseball and joined the Los Angeles Police Department. I spent 20 years with the police and rose to the rank of sergeant and assistant watch commander."
Thompson retired from the LAPD in 1971. He moved to Salome, Arizona, where he spent most of his retirement years, traveling down at times to visit his eldest son and family in Austin, Texas.
Gene Thompson passed away in Yucaipa, California on August 7, 1996. He was 74 years old.
Thanks to the late Gene Thompson for help with his biography.
Created January 27, 2007.