Fred Tauby
Date and Place of Birth: March 27, 1906 Canton, Ohio
Died: November 23, 1955 Concord, California
Baseball Experience: Major League
Position: Outfield
Rank: Seaman First-Class
Military Unit: US Navy
Area Served: United States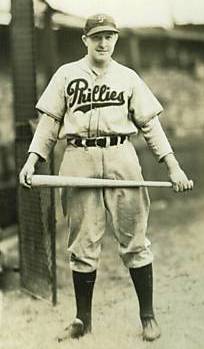 Tauby was still with the Oaks when he entered military service with the Navy in 1943. Stationed at Livermore Naval Air Station in Oakland, California, Tauby was the manager of the baseball team with a lineup that featured Joe Hatten, Ray Lamanno, Joe Abreu, Cookie Lavagetto and Johnny Tobin. The team was hugely successful in local leagues but Tauby was forced to resign his manager's position under pressure of too many military duties in September 1943.
Frederick J "Fred" Tauby (born Taubensee) was born on March 27, 1906 in Canton, Ohio. The right-handed hitting outfielder signed with the Terre Haute Tots of the Three-I League in 1926 and batted .316 in 33 games. In 1927, he joined the Durham Bulls of the Piedmont League, remaining with that team through 1930 when he hit 25 home runs and batted .358. In 1932, he began six-year tenure in the Texas League that included a 13-game stint with the Chicago White Sox in September 1935.
In 1937, Tauby was back in the major leagues playing 11 games with the Philadelphia Phillies. Through the late 1930s, he continued to play in the minor leagues with the Baltimore Orioles and the Birmingham Barons before signing with the Oakland Oaks of the Pacific Coast League in 1941.
With Ray Lamanno serving as manager in 1944, Tauby, an all-star selection, batted .516 for the club and helped them to the first half title in West Coast Army-Navy League. The Livermore team was defeated by the San Francisco Coast Guard Surf Riders in the finals of Army-Navy League.
In 1945, S1c Tauby played for Dick Bartell's Treasure Island team and hit 12 homers in 30 games. He was discharged at the end of the year and rejoined the Oakland Oaks for spring training at Boyes Springs, California. On March 14, 1946, he was released by the Oaks and became player-manager of the Sherry Liquor semi-pro team of San Francisco.
Fred Tauby worked as a wholesale liquor salesman after retiring from baseball. He died at the age of 49, of a cerebral hemorrhage on November 23, 1955, in a Concord, California, hospital. Tauby was survived by his wife, Nell, a brother and three sisters and is buried at Golden Gate National Cemetery.
Created September 3, 2008.
Copyright © 2008 Gary Bedingfield (Baseball in Wartime). All Rights Reserved.