Tommy Tatum
Date and Place of Birth: July 16, 1919 Decatur, Texas
Died: November 7, 1989 Oklahoma City, Oklahoma
Baseball Experience: Major League
Position: Outfield
Rank: Unknown
Military Unit: Signal Corps US Army
Area Served: Pacific Theater of Operations
Tom Tatum, former infielder with Montreal In the International league, drove out 22 hits in his first 43 trips to the plate for a .551 average with the Wanderers in the Hawaii league. He is in the air forces.
Associated Press September 23, 1945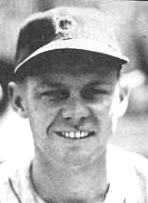 V T "Tommy" Tatum was born in Decatur, Texas on July 16, 1919. Tatum learned his baseball skills on the sandlots of Oklahoma City where he was coached by the city's most successful amateur coach, Roy Deal.
In 1940, Tatum was with the Nashville Vols – Southern Association champions – he hit .307 in 98 games. He was batting .341 when the Vols traded Tatum to the Dodgers in July 1941 and he made his major league debut on August 1. Tatum played eight games for Brooklyn and batted .167.
On January 28, 1942, he signed a contract with Dodgers and was ready to compete for an outfield position with Pete Reiser, Don Padgett and Dixie Walker. But he would not get the opportunity to play that year as he entered military service with the US Army's Signal Corps.
Although Tatum played baseball in the army, including a stint in Hawaii with the Wanderers, when he collected 22 hits in his first 43 at-bats, he suffered a serious arm injury that would hamper the rest of his playing days.
After missing four seasons of professional baseball, Tatum was back in the Dodgers' farm system in 1946, playing for the Montreal Royals and batting .319 in 129 games.

The Dodgers gave him another look at the beginning of 1947, but after playing just four games and going hitless in six at-bats, he was sold to the Cincinnati Reds. Tatum played 69 games for the Reds and batted a respectable .273 but it was to be his last time in the major leagues.
Tatum remained in baseball and managed the Oklahoma City Indians of the Texas league from 1951 to 1955.
Tom Tatum passed away on November 7, 1989 at Oklahoma City, Oklahoma and is buried at Resurrection Memorial Cemetery. He was 70 years old.
Created February 27, 2007.
Copyright © 2008 Gary Bedingfield (Baseball in Wartime). All Rights Reserved.