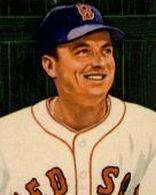 Louis B "Lou" Stringer was born on May 13, 1917 in Grand Rapids, Michigan. The 19-year-old second baseman signed with Ponca City of the Western Association in 1937 and batted .263 in 138 games. The following year with Ponca City, he hit .286 and jumped from Class C to AA with Los Angeles of the Pacific Coast League.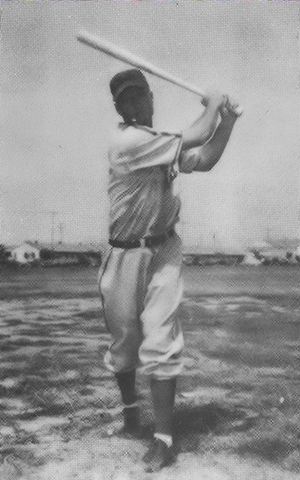 Stringer not only batted .272 with Hollywood in 1939 but he also clouted 16 home runs and drove in 85. He hit .263 with the team in 1940 and joined the Cubs in 1941, making his debut on April 15. Stringer batted .246 his rookie season and .236 in 1942.
On October 29, 1942, Stringer entered military service with the Army Air Force. He spent his entire time at Williams Field in Arizona. The airfield was located 25 miles southeast of Phoenix sandwiched between the Salt River Indian Reservation to the north and the Gila River Reservation to the south. Williams Field was used to train twin-engined bomber crews and bombardiers until late 1943, when it began training single-engine pilots. Later in the war it also trained four-engine bomber crews.
Stringer graduated from Air Force Mechanics School at Williams Field in January 1943 and was a mainstay of the Williams Field Flyers baseball team. The 1943 Flyers lineup included Stan Goletz of the White Sox, Paul Soderburg of Spokane, Ed Flynn of Superior, Lee Peterson of Decatur, Ervin Whitaker of Amarillo, and Wiley Nash of Paducah. The Flyers won Arizona Servicemen's League in 1943 and were state semi-pro champions, finishing the year with 41 wins in 50 games. On May 18, the Flyers beat Joe DiMaggio's Santa Ana Army Airbase team, 3 to 2. DiMaggio was hitless until the ninth when he singled and was picked off base. Stringer doubled in the ninth and scored the winning run on a squeeze bunt.
Stringer was selected to the all-Army team by the Army Times publication.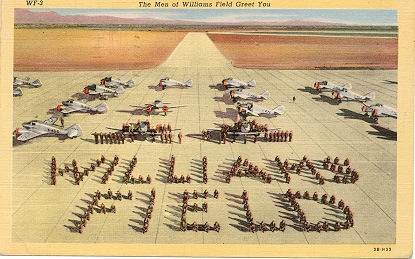 In 1944, Goletz and Flynn were back, along with Lyman Greer of Big Spring. On July 3, the Flyers beat their archrival Davis-Monthan, 2 to 1, in 12 innings with Stringer scoring both runs on a homer and a triple. On September 2, in the second game of double-header against the Marana Hosses, Stringer broke up a pitching duel between Goletz and Bobby Fontaine with a ninth inning with homer to win, 5 to 2.
The 1945 Williams Field Flyers played in the Eastern Division of the Western Flying Training Command Baseball League. They won five straight games to cruise to the state semi-pro title and Davis-Monthan, 9 to 1, in the final on July 29.
Private Stringer was discharged from service on December 11, 1945. He joined the Cubs the following season and played 80 games, batting .244. He was back with Los Angeles in the Pacific Coast League in 1947 played with Hollywood in 1948. Stringer was purchased by the Red Sox in September and played four games before the year was out. He remained with Boston, primarily as a pinch hitter during 1949 and 1950, before returning to the Pacific Coast League. He continued to play in the minor leagues until the mid-1950s.
Lou Stringer passed away on October 19, 2008, at Freedom Village, Lake Forest, California. He was 91.
Thanks to Chris McDoniel for help with information on Williams Field and for allowing me to use the Williams Field postcard. You get more information on Williams Field at Arizona in World War II.
Created March 8, 2008. Updated October 24, 2008.