George Strickland
Date and Place of Birth: January 10, 1926 New Orleans, Louisiana
Baseball Experience: Major League
Position: Infield
Rank: Specialist Mailman
Military Unit: US Navy
Area Served: Pacific Theater of Operations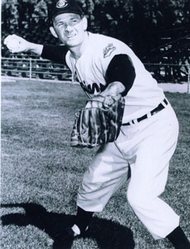 George B Strickland was born on January 10, 1926 in New Orleans, Louisiana. He was a high school star and played American Legion baseball for New Orleans - the southwest finalists - at Miles City, Montana in 1943.
Strickland signed with his hometown New Orleans Pelicans in September 1943 and made his pro debut at third base on September 5, collecting two hits. But his baseball career had to be put on hold because the 18-year-old was drafted by the military in March 1944.
Strickland served with the Navy and following boot camp in San Diego he was shipped to Kaneohe Bay, Hawaii. From there he went to Guam and then spent 16 months on Saipan in the Mariana Islands. American forces had defeated the Japanese on Saipan in July 1944. "I was just 18 years old and don't know what I would have done if the Japanese had still been fighting when we got there," he recalled recently. "I probably would have run for my life!"
Strickland remembers Saipan as a beautiful place with a glorious fresh water lake. "We used to sit up at night and watch the planes coming back from their bombing raids," he recalls.
Strickland was a Specialist Mailman and his unit would service PBY Catalina and PBM Mariner flying boats that landed at Saipan after patrolling the local waters. He played softball and basketball to keep busy in his spare time – there wasn't enough space for a baseball diamond.
George remembers playing softball one day when a fellow came over with a couple of boxes of baseballs and asked him if he would throw some batting practice. George soon realized that he was throwing BP to Barney McCosky of the Detroit Tigers (Strickland and McCosky would later be teammates at Cleveland).
Strickland was discharged from the Navy in May 1946. He returned to the Pelicans (one of eight local players on that team) and batted .242 with two home runs and 23 RBIs. He was drafted by the Boston Red Sox at the end of the season and went to spring training with the major league club in 1947. He played for Scranton in the Eastern League that year and joined Louisville in the American Association in 1948.
Strickland had a strong season with Birmingham in the Southern Association in 1949, batting .261 with nine home runs and 47 RBIs, and was drafted by the Pittsburgh Pirates at the end of the year. The 24 year-old infielder made his major league debut with the Pirates on May 7, 1950, and remained with the cellar-dwelling National League club until traded to the Cleveland Indians in August 1952. He was with the Indians until 1960 and appeared in three games of the 1954 World Series against the Giants.
Strickland was a scout with the Indians in 1961, and joined the Minnesota Twins as a coach in 1962. Between 1963 and 1969 he was back with the Indians as a coach and managed the club in 1964 and 1966.
In 1970, Strickland's good friend and former Cleveland teammate Bob Lemon – who was managing the Kansas City Athletics - asked him to join his coaching staff. Strickland remained in Kansas City until 1972 when, after 20 years as a major league player, coach and manager, he retired from the game. "I'm going home to New Orleans," he told Bob Lemon who lost his job as Kansas City skipper at the end of the season. "So don't call me even if you get another job!"
Reflecting on his four decades in professional baseball, Strickland says, "Lou Gehrig said he considered himself the luckiest man on the face of this earth. Well, I consider myself the most fortunate."
George Strickland lives happily in retirement in New Orleans. In November 2007, he attended the Duty, Honor, Country: When Baseball Goes to War conference at the National WWII Museum in New Orleans, Louisiana.
Thanks to George Strickland for sharing this information with me.
Created November 22, 2007.
Copyright © 2008 Gary Bedingfield (Baseball in Wartime). All Rights Reserved.