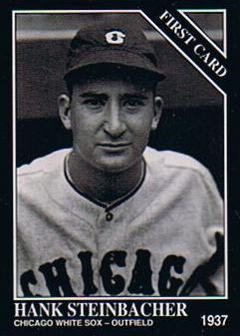 Henry J "Hank" Steinbacher was born on March 22, 1913 in Sacramento, California. He signed with the Sacramento Senators of the Pacific Coast League right after graduating from high school in 1930, and batted .314 in 59 games his rookie year.
Steinbacher spent the next five seasons with the Sacramento ball club and batted over .300 in four of those years. In 1936, he joined the St Paul Saints of the American Association and league the league with 49 doubles and had a second-best .353 batting average.
He joined the Chicago White Sox in 1937 and appeared in 26 games for a .260 average before spending the remainder of the season back at St Paul. Back with the White Sox in 1938, Steinbacher played 106 games and batted .331 with 61 RBIs, but his average plummeted to .171 in 71 games in 1939 and he was sold to the St Louis Browns.
The Browns sent Steinbacher to the Toledo Mud Hens for the 1940 where he remained until joining the Buffalo Bisons of the International League mid way through 1942. He returned to his home state of California in 1943 and played for the San Francisco Seals, batting .318 that year.
Steinbacher was still with the Seals when he passed his induction physical examination in February 1945. After playing 19 games of the regular season, he entered military service with the Army and was stationed at Fort Lee, Virginia.
Steinbacher spent the summer of 1945 playing for championship Camp Lee Travelers who won Third Service Command title that year. Led by manager/first baseman Gene Hasson, his teammates included Pete Reiser, Buster Maynard, Jim Hopper and Johnny Lindell.
Steinbacher was 33 when he was discharged from military service and didn't return to baseball. In 1947, he joined the Sacramento Police Force, from which he retired in 1969. Hank Steinbacher passed away at his home in Sacramento on April 3, 1977. He was 64.