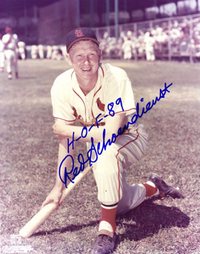 Albert F "Red" Schoendienst was born on February 2, 1923 in Germantown, Illinois. His father had been a catcher in the Clinton County League and Red grew up playing baseball at every opportunity.
At the age of 16, Schoendienst quit school to join the Civilian Conservation Corps (CCC) where he continued to play baseball at Greenville, Illinois.
While building fences with the CCC a nail hit him in the eye. He was driven to the Marine hospital in St Louis, where he pleaded with doctors not to remove the badly damaged eye.
Schoendienst had limited vision in his eye when he returned to the CCC. Once the United States entered WWII the CCC was disbanded and he took a job as a supply clerk at Scott Field in Belleville, where he continued to play baseball.
In 1942, he hitchhiked to a Cardinals' tryout camp in St Louis and signed with the team. He joined Union City in the Kitty League for $75 a month and when that league disbanded he was sent to Albany in the Georgia-Florida League.
In 1943 he played at Lynchburg and got off to a great start. He was batting .472 when he was sent to Rochester of the International League where he hit .337.
Despite his eye injury, Schoendienst was expecting to be called for military service. He started the 1944 season with Rochester and was batting .373 after 25 games when the call to arms came.
Schoendienst reported to Camp Blanding in Florida in May 1944. "Joining the Army was not something I was real excited about," he explained in his autobiography Red: A Baseball Life, "but I knew I didn't have any choice. Training for the infantry, we were exposed to just about every situation you can imagine – how to wire for mines, how to blow up bridges, how to set booby traps and dig up mines."
He was later transferred to Pine Camp, New York – a prisoner of war camp for Italian prisoners. "One of our jobs was to build ballfields so we could keep the prisoners entertained and give them something to do. We also put together a camp team. We played on weekends, traveling to some of the nearby Army bases."
During one of the Pine Camp games, Schoendienst suffered a shoulder injury. It was diagnosed as a shallow shoulder socket and would continue to pop out on occasions.
A combination of the shoulder injury and eye injury led to Schoendienst's medical discharge in January 1945. He went home to rest briefly before joining the Cardinals at the Cairo, Illinois spring training camp in 1945.
Schoendienst made his major league debut with the Cardinals on April 17. He played 137 games during the season, led the league with 26 stolen bases and batted .278.
In late 1958 Schoendienst was diagnosed with tuberculosis. He was 35 years old and it was expected that his baseball career was at an end. He underwent surgery to remove part of the infected lung and remained in hospital from November 1958 to February 1959. But Schoendienst defied the odds and returned to the game in September 1959.
Schoendienst played in the major leagues until 1963, appeared in ten all-star games and finished with a career batting average of .289. His best season was in 1953, when he played 146 games, batted .342 and hit 15 home runs with 79 RBIs. He remained with the Cardinals until May 1956 when he was traded to the Giants. In June 1957 he was traded to Milwaukee and released in October 1960, rejoining the Cardinals to finish his career.
After retiring, Schoendienst in 1965 began the longest managerial tenure in Cardinals' history, skippering the team from 1965 through 1976. Under his direction, St Louis won National League pennants in 1967 and 1968, and defeated the Boston Red Sox in seven games in the 1967 World Series.
His record as a St Louis manager, over 12 fulltime seasons (1965-76) and two stints (1980 and 1990) as an acting manager was 1,041 victories and 955 defeats (.522). After two years away from St Louis as a coach for the 1977-78 Oakland Athletics, Schoendienst returned to the Cardinals as a coach, acting manager and special assistant to the general manager.
In 1989, Red Schoendienst was elected to the Baseball Hall of Fame and the St. Louis Walk of Fame.
Some of the above information was obtained from Schoendienst's autobiography – Red: A Baseball Life (Sports Publishing Inc, 1998 www.sportspublishinginc.com).
Created June 30, 2007.
Copyright © 2008 Gary Bedingfield (Baseball in Wartime). All Rights Reserved.

Baseball in Wartime Store

Visit the Baseball in Wartime Store for
t-shirts, sweatshirts and more...

click here