Tom Saffell
Date and Place of Birth: July 26, 1921 Etowah, Tennessee
Baseball Experience: Major League
Position: Outfield
Rank: Unknown
Military Unit: 405th Fighter Squadron, 371st Fighter Group USAAF
Area Served: European Theater of Operations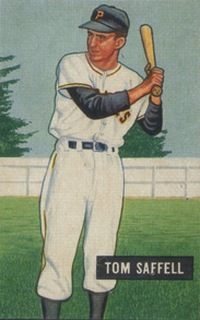 Thomas J "Tom" Saffell was born on July 26, 1921 in Etowah, Tennessee. He graduated from high school in 1940 and enrolled at Maryville College that fall. But he hurt his knee playing football, so he skipped baseball.

The following year he signed a contract with Newport, and played a few games before the knee was hurt again and he was released.

Saffell then had a try out with Kingsport, but his knee was still a problem and he was released after two weeks. Saffell went back to Etowah and worked for the railroad.
Saffell also met Paul Richards, Atlanta Crackers manager, who offered him a chance to play. Although he did not take up the offer at the time, it would be the Atlanta club that he would contact after his military service.
Saffell enlisted on May 25, 1942 in Chattanooga, Tennessee. He trained as a fighter pilot and served in Europe with the 405th Fighter Squadron of the 371st Fighter Group.
Saffell was a Republic P-47D Thunderbolt pilot. Between April 1944 and May 1945 he flew 61 combat missions from bases in France and Germany without a scratch, although he did prang his P-47 on May 21, 1945 at Karlsruhe, Germany.
When Saffell returned home he contacted the Atlanta club and they had a place for him with Charleston in the Sally League. After a month, Saffell was sent to Burlington of the Carolina League where he batted .370 with five home runs, 42 RBIs and 28 stolen bases.
In 1947 Saffell went to spring training with the Crackers. But after three weeks, Atlanta sent him to Selma of the Southeastern League.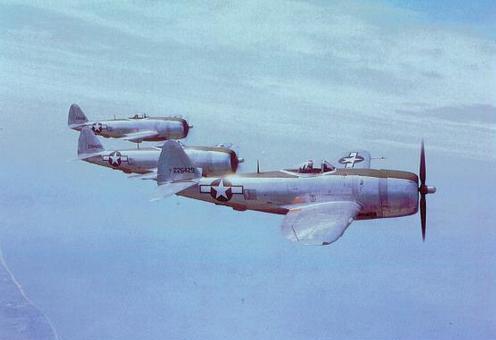 "I thought I had the Atlanta club made," Saffell recollected. "But they signed the All-American football player Charley Trippi. They gave him a $10,000 bonus, so that cooked my goose. But I had a good year at Selma."

The following year Saffell went to spring training at Victoria, Texas, with Indianapolis, a Triple-A club that had a working relationship with Atlanta. They won the pennant in 1948 and Saffell made his major league debut on July 2, 1949. He made 73 appearances for the Pirates that season and batted an outstanding .322, but continued to split time between Indianapolis and Pittsburgh through 1951.
In 1952 he went to spring training with Hollywood in the Pacific Coast League and remained there through 1954. Saffell had another crack at the majors in 1955, returning to the Pirates for 73 games, but batted just .168. In September he was selected off waivers by the Kansas City Athletics and played nine games before the season was over.
He then returned to the Pacific Coast League for four years. In 1956 Saffell hit .290 for Portland. The following year he averaged .262 for Los Angeles. Saffell played for Spokane in 1958 and 1959, hitting .240 and .234, respectively. Saffell then embarked on what became a 13-year minor league managing career in 1960. The Los Angeles Dodgers signed him to guide Reno of the Class C California League, and he led his club to the pennant.

In 1961, he managed Jacksonville in the Sally League at Jacksonville and Grand Forks of the Northern League in 1962.

Returning to the California League, Saffell managed Reno in 1963 and 1964, then the Batavia Pirates of the Class A New York-Pennsylvania League in 1965.

In 1966 and 1967 Milwaukee hired Saffell to pilot the rookie Braves of the Gulf Coast League. He joined the Chicago White Sox organization in 1968, managing various teams until he was rehired by the Pirates in 1971. Saffell managed Monroe of the Class A Western Carolinas League then moved to Gastonia in 1972. The following year Saffell was slated to go to the Mexican League, but the Pirates fired him. Out of baseball for the first time since World War II, he worked at a number of jobs in Sarasota, including painting, selling cars, and bar-tending at the beach.

In 1978 he was offered the job as president of the Gulf Coast League. In 1980, he took over the Florida Instructional League. Then in the middle of the '80s he took over the major league extended spring training program.
Created July 1, 2007.
Copyright © 2007 Gary Bedingfield (Baseball in Wartime). All Rights Reserved.