Red Ruffing
Date and Place of Birth: May 3, 1904 Granville, Illinois
Died: February 17, 1986 Mayfield Heights, Ohio
Baseball Experience: Major League
Position: Pitcher
Rank: Sergeant
Military Unit: 6th Ferrying Group, Air Transport Command USAAF
Area Served: United States
Charles H "Red" Ruffing was born on May 3, 1904 in Granville, Illinois. He dropped out of grammar school in Nokomis, Illinois and took a job tending a mine ventilation system. Ruffing lost four toes on his left foot when it was caught between two coal cars.
Playing minor league baseball for Danville in the Three-I League in 1923, Ruffing was sold to the Boston Red Sox in August. He made his major league debut with the Red Sox on May 31, 1924 and made eight unmemorable appearances that season.
The following year he joined the starting rotation and had a 9-18 won-loss record for the last place team. Ruffing remained a losing pitcher with Boston until he was traded to the Yankees in 1930. With a winning team, he became a winning pitcher and won 20 games or more in 1936, 1937, 1938 and 1939.
In January 1943, Ruffing was drafted despite having only one toe on his left foot and being 39 years old. "When Uncle Sam reached out and tapped Red Ruffing for service," wrote Joe Williams in the New York World-Telegram, "he put a period at the end of a famous battery, Ruffing and Dickey."
Based at Long Beach Army Air Base in California with the 6th Ferrying Group of the Air Transport Command, Ruffing managed the baseball team with a lineup that included Max West, Harry Danning and Nanny Fernandez.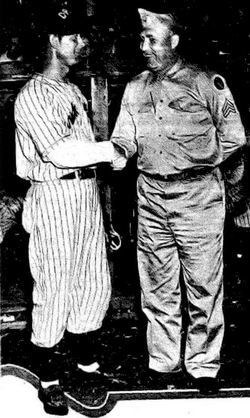 Sergeant Red Ruffing (right) with Steve Sundra in 1945
In April 1943, Ruffing pitched for a service all-stars team against the Hollywood Stars. With service teammate Joe DiMaggio in fine form Ruffing helped the military squad overcome the Stars 5-2.
The 6th Ferrying Group proved to be a formidable baseball team and Ruffing pitched them to a 4-1 victory over Camp Pendleton for the Southern California service championship in 1943.
In June 1944, Ruffing's 6th Ferrying Group team took on the Hollywood Stars and won 7-1. In November 1944, it was rumored that Ruffing would be returning to the Yankees. "Word has reached here from California," wrote Dan Daniel in The Sporting News on November 9, 1944, "that Ruffing, now in the Army, will be back with the Yankees when they start training … The report is that Ruffing, who was drafted two years ago, even though he lacked a couple of toes and was close to the age limit, is to be discharged honorably because of his years."
However, Ruffing was to remain in service and eventually received his discharge at Fort Dix on June 5, 1945.
He was 41 years old when he returned to the Yankees in July 1945, but still posted a 7-3 record in 11 starts. He suffered from a flying phobia as a result of experiences during WWII and was the only player on the Yankees squad excused from traveling on the team plane. Ruffing ended his major league career in 1947 with the Chicago White Sox.
After retiring as a player he worked as a minor league manager for the White Sox and Indians. He was a coach with the Mets in 1962.
Red Ruffing was inducted into the Baseball Hall of Fame in 1967. He passed away on February 17, 1986 in Mayfield Heights, Ohio, aged 81.
Created June 10, 2007. Updated September 3, 2008.
Copyright © 2008 Gary Bedingfield (Baseball in Wartime). All Rights Reserved.

Baseball in Wartime Store

Visit the Baseball in Wartime Store for
t-shirts, sweatshirts and more...

click here