Date and Place of Birth: April 21, 1919 North Tonawanda, New York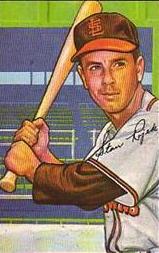 Stanley A "Stan" Rojek was born on April 21, 1919 in North Tonawanda, New York. A fine-fielding shortstop, he played semi-pro baseball after graduating from high school until signing with the Brooklyn Dodgers in 1939. Rojek was assigned to Oleon of the PONY League where he batted .320 his rookie year. He hit .287 with Dayton of the Midde-Atlantic League in 1940 and had a .309 average for Durham of the Piedmont League in 1941.
The 23-year-old was with Montreal of the International League in 1942 and made his major league debut with Brooklyn on September 22 against the New York Giants. He was used as a pinch runner and scored.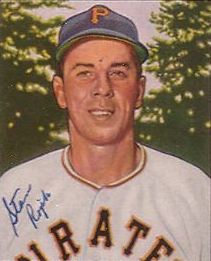 A promising career was put on hold when military service beckoned in 1943. Rojek served with the 58th Training Group of the Army Air Force at Keesler Field, Mississippi before being sent overseas. In July 1945, he was with the 73rd Bomb Wing Bombers on the 20th Air Force tour of Pacific Islands. The Bombers were based at Isley Field, Saipan and played round-robin competitions against Birdie Tebbett's 58th Bomb Wing and Lew Riggs' 313th Bomb Wing. The Bombers, with a line-up that featured Sid Hudson, Tex Hughson and Mike McCormick, and skippered by Buster Mills, won nine of 11 games on the Marianas Island leg of the tour.
"We gave everything we had," he told The Sporting News in December 1945. "There was no loafing or protecting yourself. Not before those crowds. Some of us got razzed, too, but it was all very friendly. One day, on Saipan, Captain Birdie Tebbetts thought he recognized the deep bleat of a fan who used to get on him every time he played in Cleveland.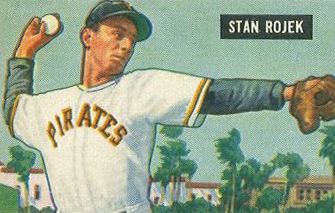 "When Birdie came to bat in the seventh inning, he spotted his tormentor and hollered back to the bench: 'That fellow,' he said, pointing, 'has followed me all the way from Cleveland to give me the works.'
"Sure enough, it was the same fan who always picked on Tebbetts when the Tigers played in Cleveland. He was a pilot, and do you know, he succeeded in wrangling some assignments to Tinian or the other islands we played, just to keep razzing Tebbetts!"
Rojek really blossomed as an all-round player in the Pacific. He led the 20th Air Force tour with a .363 batting average and also clouted three home runs.
Rojek was discharged from service in December 1945, confident that he could win the shortstop job from Pee Wee Reese and Claude Corbitt. "The war years may have retarded the chances of some young players," he said at the time, "but I am one of the fortunate. I am leaving the Army a better player because I had the experience of playing with and against seasoned major league stars. I played more than 200 games in the Army, and I didn't do badly."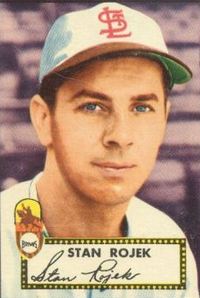 Claude Corbitt proved no problem for Rojek as he was sold to the Reds in March 1946. However, he was unable to compete with future Hall of Famer Pee Wee Reese. Rojek played just 45 games as a late-inning defensive replacement and pinch-hitter, batting .277. A similar fate awaited the 28-year-old in 1947 but his purchase by the ittsburgh Pirates in November of that year gave him an opportunity to play regularly.
Rojek played 156 games for the Pirates in 1948 and batted .290, leading the league with 150 singles. In 1949, his average dropped to .244 and by 1950 he was a platoon player. He was traded to the Cardinals in 1951, where he played 51 games and batted .274 but was selected off waivers by the Browns the following season and appeared in just nine games to end his major league career.
Rojek spent most of 1952 with Toledo of the American Association. He was traded back to the Dodgers in October 1952 and ended his playing days with Montreal, Mobile and St Paul.
Stan Rojek suffered a stroke in 1995 and passed away on July 9, 1997 in North Tonawanda, New York.
Created April 4, 2008.