Date and Place of Birth: September 30, 1926 Springfield, Illinois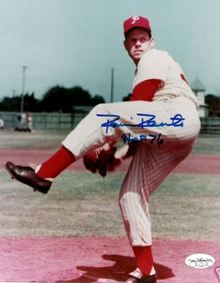 Robin E Roberts, whose parents were both born in England, was born on September 30, 1926, in Springfield, Illinois. He attended Lanphier High School where he participated in baseball, football, basketball and track. "The war was still on when I graduated in 1944, and I had thoughts of becoming a fighter pilot, "Roberts wrote in The Whiz Kids in 1996. "I qualified for the Air Force Cadet reserve program and was sent to Michigan State University in East Lansing [Michigan]."
In the late fall of 1944, he was accepted into the regular Air Corps beginning in March. In the spring of 1945 he was ordered to report for basic training at Shepherd Air Force Base in Wichita Falls, Texas. But with the end of the war nearing the Army Air Force's preflight training was suspended and he was assigned to Chanute Field, Illinois.
Roberts was discharged in November 1945 and returned to Michigan State where he ignited his reputation as an outstanding pitcher and major league prospect. In the summer of 1947, he pitched for Montpelier in the Northern League – a summer college circuit – and attracted immediate attention from both the Braves and Phillies.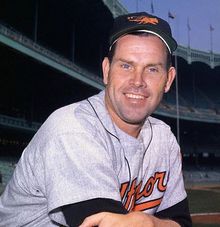 Roberts signed with the Phillies for a $25,000 bonus and pitched for Wilmington of the Interstate League in 1948. With a 9-1 record and 2.08 ERA at Wilmington he was called up to the Phillies in June and made 20 starts for a 7-9 record and 3.19 ERA with the sixth placed team.
By 1950, Roberts had his first of six consecutive 20-win seasons under his belt including an exceptional 28-7 record in 1952 that saw him finish second only to Hank Sauer of the Cubs in the National League MVP award.
Roberts continued to pitch for the Phillies through 1961. After being released by the Phillies at the end of the season he tried out in spring training with the New York Yankees but was released shortly after the season began. After that the Baltimore Orioles picked him up and he had several successful seasons for the Orioles before moving on to the Houston Astros and Chicago Cubs to conclude his career. He ended his professional career with Reading of the Eastern League in 1967 at the age of 40.
In his 19-season career, Roberts compiled a 286-245 record with 2,357 strikeouts, a 3.41 ERA, 305 complete games, 45 shutouts, and 4,688⅔ innings pitched in 676 games.
He later worked as a stockbroker and Phillies' broadcaster. He then coached baseball at the University of South Florida for eight years and also coached high school baseball in Philadelphia.
The Phillies have honored him with the retirement of his uniform number 36 and a statue outside the first base gate of Citizens Bank Park. Robin Roberts was inducted in the Baseball Hall of Fame in 1976.
Created December 8, 2007.