Phil Rizzuto
Date and Place of Birth: September 25, 1917 Brooklyn, New York
Died: August 14, 2007
Baseball Experience: Major League
Position: Shortstop
Rank: Unknown
Military Unit: US Navy
Area Served: Pacific Theater of Operations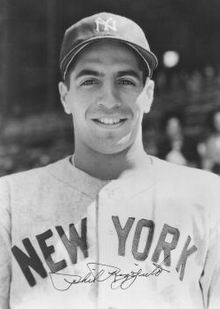 Philip F "Phil" Rizzuto was born in Brooklyn, New York on September 25, 1917. He played both baseball and football at Richmond Hill High School in Queens, New York.
He was signed by the Yankees in 1937, and the diminutive shortstop batted .307 in his rookie major league season with the Yankees in 1941. The following season, Rizzuto was an American League all-star but it was his last season in professional baseball for the duration of the war.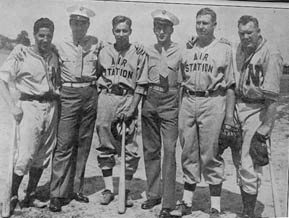 Rizzuto served with the Navy at Norfolk Naval Training Station in 1943 where he played baseball on a regular basis. He was later in charge of 20mm gun crew on a ship in the Pacific, but contracted malaria while in New Guinea. Rizzuto was sent to Australia to recover and coached the US Navy baseball team while there.
Rizzuto was back with the Yankees in 1946, but his first after three years of military service, was one of his worse offensively, batting just .252. Rizzuto would soon turn things around and by the time he retired after the 1956 season, Scooter had appeared in nine World Series and been named to five All-Star teams.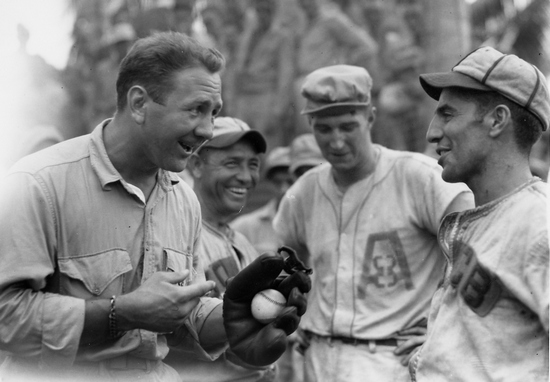 Phil Rizzuto later became a broadcaster for the Yankees. His uniform No 10 was retired by the Yankees August 4, 1985 on Phil Rizzuto Day, but he ended up being upstaged by Tom Seaver, who pitched his 300th career victory that afternoon for the Chicago White Sox. He was inducted into the Baseball Hall of Fame in 1994.
Phil Rizzuto passed away on August 14, 2007. He was 89 years old.
Created May 13, 2007. Updated August 14, 2007.
Copyright © 2008 Gary Bedingfield (Baseball in Wartime). All Rights Reserved.

Baseball in Wartime Store

Visit the Baseball in Wartime Store for
t-shirts, sweatshirts and more...

click here