Johnny Rizzo
Date and Place of Birth: July 30, 1912 Houston, Texas
Died: December 4, 1977 Houston, Texas
Baseball Experience: Major League
Position: Outfield
Rank: Chief Specialist
Military Unit: US Navy
Area Served: United States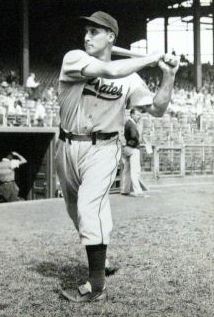 John C "Johnny" Rizzo was born on July 30, 1912 in
Houston, Texas
. He signed with the St Louis Cardinals in 1931 and played at
Galveston
and
Corpus Christi
his rookie year.
In 1932 he was with Muskogee of the Western Association and batted .341 with 92 RBIs and 14 home runs. He spent 1933 and 1934 with Elmira of the Eastern League and advanced to Houston of the Texas League in late 1934.
By 1937, Rizzo was with Columbus of the American Association and batted an outstanding .358 with 21 home runs and 123 RBIs. On the brink of a major league career, the Cardinals sold Rizzo to Pittsburgh for $75,000 because they simply didn't have room for another outfielder.
As a Pirate in 1938, Rizzo batted .301 with 23 home runs and his 123 RBIs was third best in the National League. But his temper tantrums alienated alienated teammates and fans. His batting average dropped to .261 in 1939 and he was traded to the Reds in May 1940. A month later he climbed into the stands in pursuit of some hecklers and was traded the next day to the Phillies.
Rizzo played well for the rest of the season in Philadelphia, batting .292 in 103 games. Then in 1941, he slumped again – this time his average dropped to a lowly .217 and he was sold to the Brooklyn Dodgers. Rizzo played 78 games for the Dodgers in 1942 and batted .230.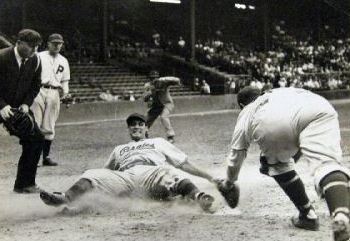 On March 1, 1943, Rizzo entered military service with the Navy. He was stationed at
Norman
Air
Technical
Training
Center
in
Oklahoma
where he regularly played baseball with the Navy Skyjackets.
By June 1943 he had advanced from the rank of seaman first-class to specialist third-class. By the time he was discharged from the Navy at the end of 1945 he was a chief specialist.
Rizzo was 33 when he returned to baseball in 1946. He played with the Dodgers' farm team at St Paul of the American Association that year and was with Sacramento of the Pacific Coast League in 1947. In 1948 he batted .309 with 100 RBIs for Chattanooga of the Southern Association but ended his baseball career the following year as player/manager with Lakeland of the Florida International League.
Johnny Rizzo later worked in the sporting goods business and as an automobile salesman. He passed away in Houston, Texas on December 4, 1977, aged 55.
Created May 8, 2008.
Copyright © 2008 Gary Bedingfield (Baseball in Wartime). All Rights Reserved.