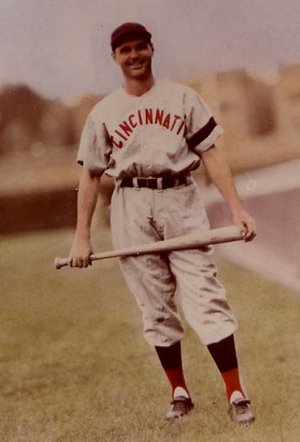 Lewis S "Lew" Riggs was born on April 22, 1910 in Mebane, North Carolina. A graduate of the University of North Carolina, Riggs signed with Rochester in 1929. The young infielder struggled with St Joseph of the Class A Western League in 1930 and was sent to Shawnee of the Class D Western Association where he batted .356.
In 1931, he advanced to Columbus of the American Association where he remained until joining the St Louis Cardinals at the start of 1934. After just two brief appearances, Riggs was returned to Columbus and then purchased by the Cincinnati Reds at the end of the year.
As the Reds' starting third baseman, Riggs batted .278 his rookie year (1935) and made the all-star team in 1936. He remained a regular with Cincinnati through 1938 but dropped to just 22 games for the club in 1939 and 41 the following season.
He was traded to the Dodgers in December 1940 and played 77 games in 1941, batting .305. He batted .278 in 70 games the following year.
Riggs entered military service with the Army Air Force at Camp Croft, South Carolina on October 27, 1942 and reported to Fort Myers, Florida the following day. "With a war on," he said at the time, "it seems as though I ought to be in there tossing something besides baseballs. My father used to be proud when I had a good baseball season, but you ought to hear him now. You'd think I was just what the Allies were waiting for."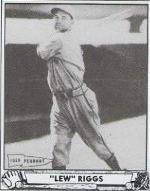 Riggs later served in the Pacific and was player/manager of the 313th Bombardment Wing Flyers ball club that played in the Mariana Islands as part of the 20th Air Force Tour. Riggs' team included Johnny Sturm, Max West, Walt Judnich and Stan Goletz.
Riggs was discharged from military service in late 1945. He was nearly 36 years old when he reported to the Dodgers in the spring of 1946, and after going 0-for-4 in a single game he was released. He spent the rest of the year with Montreal of the International League and batted well at .303 with 15 home runs and 73 RBIs.
In 1947, he was with St Paul and moved to Baltimore in 1948. 1950 saw him with Newark and he ended his playing days back with Baltimore in 1950, aged 40.
Lew Riggs passed away on August 12, 1975 at the Veterans Hospital in Durham, North Carolina. He was 65.
Created May 8, 2008.