Marv Rickert
Date and Place of Birth: January 8, 1921 Long Branch, Washington
Died: June 3, 1978 Oakville, Washington
Baseball Experience: Major League
Position: Outfield
Rank: Unknown
Military Unit: US Coast Guard
Area Served: Pacific Theater of Operations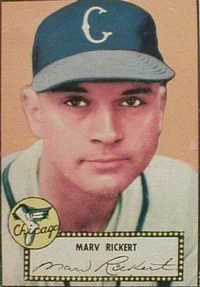 Marvin A "Marv" Rickert was born on

January 8

, 1921

in Long Branch, Washington. Long Branch was a logging town of only 600 people and his father played for a semi-pro team in town of which all but one were family members.

Rickert played baseball and quarterbacked the football team in high school. He signed upon graduation and joined Tacoma in the Western International League in 1938. He was sent to Boise in the Pioneer League for 1939 and batted .354 with 14 homers and 75 RBIs, earning his return to Tacoma for 1940 and 1941.

Rickert, a left-handed hitter, batted .312 with Tulsa in the Texas League in 1942 and made his major league debut with the Chicago Cubs in September. He appeared in eight games and had seven hits in 26 at-bats (.269).

On September 28, 1942, Rickert entered military service with the United States Coast Guard. He spent most of his first year on one of the most dangerous of jobs. He was on an explosives boat, hauling ammunition to the Aleutians when the Japanese were threatening that area. "I still shudder when I think of it," he told The Sporting News on April 11, 1946.

Rickert later coached the Coast Guard baseball team at Seattle. They had 98 wins against 8 defeats over two years.

He returned to the Cubs in 1946, playing in 111 games and batting .263. He was used mainly in a pinch hitting role in 1947, and was purchased by the Reds for the 1948 season. After playing just eight games, however, he was traded to the Boston Braves for Danny Litwhiler, and appeared in the World Series against the Cleveland Indians.

Rickert later played for the White Sox and Pirates, ending his career with Toronto in the International League in 1952.

He later worked as a bartender, charter boat operator and Pierce County Parks and Recreational Department employee.

Marv Rickert passed away on

June 3, 197

8

in Oakville, Washington. He was just 57 years old.

Created November 20, 2007.
Copyright © 2007 Gary Bedingfield (Baseball in Wartime). All Rights Reserved.