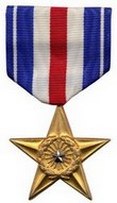 Bill Reeder
Date and Place of Birth: February 20, 1922 Dike, Texas
Died: March 12, 2001 Sulphur Springs, Texas
Baseball Experience: Major League
Position: Pitcher
Rank: Private First Class
Military Unit: 381st Infantry Regiment, 96th Infantry Division US Army
Area Served: Pacific Theater of Operations
William E "Bill" Reeder was born on
February 20, 1922 in Dike, Texas.

The 6-foot-5, right-hander began his pro career with Marshall in the East Texas League in 1940. The following season he joined Monroe in the Cotton States League and began to show promise with a 13-9 record and 3.65 ERA.

Reeder moved up to Meridian in the Southeastern League in 1942 and also pitched a handful of games for Shreveport in the Texas League.

He entered military service with the US Army on October 16, 1942 and, following basic training, served with the 381st Infantry Regiment of the 96th Infantry Division. By 1945, Reeder was a private first-class serving in the Pacific Theater. In late April he found himself at Okinawa where his company were desperately holding on to a hilltop position in the face of a determined Japanese assault. The Japanese had mortars dug in about 300 feet down the hillside and they were delivering deadly concentrated fire on the American troops. The mortars were two deeply dug in to be eliminated by machine-gun fire and nobody could throw a hand grenade that far, until the company commander, Captain Wilcox, remembered that PFC Reeder was a pre-war professional baseball pitcher.

Reeder was called for and he hurled a number of grenades at the mortar positions until they were silenced. The Japanese infantry were then beaten off and the hill remained in American hands.

When it was over, Captain Wilcox personally paced off the distance between Reeder's makeshift pitching mound and the Japanese mortar positions. "It was just a little over 300 hundred feet," Captain Wilcox declared. "Try throwing a grenade that far sometime if you don't think it's quite a trick."

Reeder was awarded the Silver Star for his action.

He returned to Shreveport in 1946 and was 11-8 with a minuscule earned run average of 2.00. The Cardinals purchased his contract at the end of the season and he joined the Rochester Red Wings of the International League where he 5-5 in 1947, then 19-12 in 1948.

Reeder joined the Cardinals for spring training in 1949 and made his major league debut on April 23. He remained with the team for the entire season and made 21 - primarily relief - appearances, striking out 21 in 33-and-two-thirds innings and posting a 5.08 ERA.

Reeder returned to Rochester in 1950 and ended his playing career with the San Francisco Seals in the Pacific Coast League in 1952.

Bill Reeder passed away on March 12, 2001 in Sulphur Springs, Texas. He was 79 years old.

Thanks to Jim Wheeler for bringing this story to my attention.
Created November 20, 2007.
Copyright © 2007 Gary Bedingfield (Baseball in Wartime). All Rights Reserved.