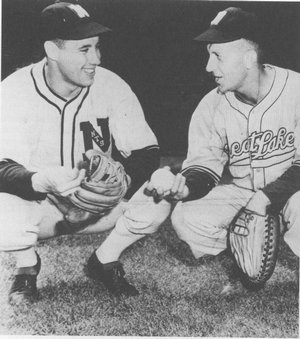 Frank A "Frankie" Pytlak was born on July 30, 1908 in Buffalo, New York. He signed with Buffalo of the International League in 1928, appearing in just 13 games. He was with Hagerstown of the Blue Ridge League in 1929, and Erie of the Central League in 1930, where the 5-foot-7 catcher hit .330 and drove in 53 runs.
Pytlak was back with Buffalo in 1931 and made his major league debut with the Cleveland Indians on April 22, 1932. He played 12 games with Cleveland then batted .324 the remainder of the season with Toledo of the American Association.
Pytlak was back with the Indians in 1933, mainly as a back-up catcher. His best year was 1937, when he played 125 games, batted .315 and even stole 16 bases. The following year, on October 2, 1938, he was behind the plate when Bob Feller set a modern major league record of 18 strikeouts against the Tigers.
Pytlak was traded to the Red Sox in 1941 – his tenth season in the majors - and as their first-string catcher he appeared in 106 games and batted .271. Expecting to be called by his draft board in 1942, Pytlak contacted Mickey Cochrane at Great Lakes and joined the athletic division there on April 17, 1942. He spent the summer playing for the Great Lakes team and also played for the Military All-Stars at Cleveland on July 7, 1942. Early in 1943, Yeoman Third Class Pytlak was transferred to Buffalo, where he served for the remainder of the war.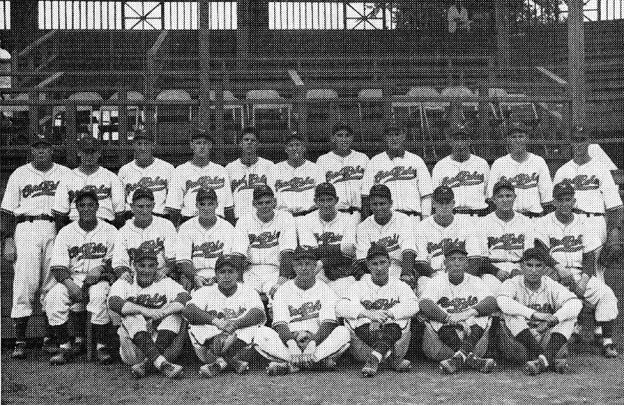 Great Lakes team 1942
Pytlak was 37 when he was discharged from military service on September 1, 1945, and played nine games with the Red Sox before the season finished. The following year he was used sparingly, appearing in only four games and was released in August 1946.
He managed Providence of the New England League for a year before quitting organized baseball and coached high school baseball for some time. He later worked in a sporting goods store until retiring in 1975.
Frankie Pytlak passed away at Millard Fillmore Hospital in Buffalo, New York on May 8, 1977. He was 68 years old.
Created February 19, 2008.