Bill Posedel
Date and Place of Birth: August 2, 1906 San Francisco, California
Died: November 28, 1989 Livermore, California
Baseball Experience: Major League
Position: Pitcher
Rank: Unknown
Military Unit: US Navy
Area Served: Pacific Theater of Operations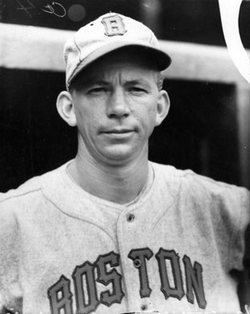 William J "Sailor Bill" Posedel was born in San Francisco, California on August 2, 1906. Posedel served two years in the Navy starting in 1925. He pitched the USS Saratoga to the Pacific Fleet championship and was a middleweight boxing champion before signing a professional baseball contract with the Portland Beavers of the Pacific Coast League in 1929.
The tall right-hander was with Portland thru 1931, and then pitched for the Tulsa Oilers. He posted a 16-10 record with the Oilers in 1932 and was back with Portland in 1935. The Cincinnati Reds showed an interest in the 28-year-old and he went to spring training with them in 1936. But Posedel was back with Portland when the regular season opened and produced a 20-10 record.
In September 1937, Posedel's contract was purchased from Portland by the Brooklyn Dodgers. He pitched in 33 games in 1938 and was 8-9. In March 1939, Posedel was traded to the Boston Braves for Al Todd. He made 29 starts and was 15-13 with a 3.92 ERA. In 1940 he was 12-17 for the Braves.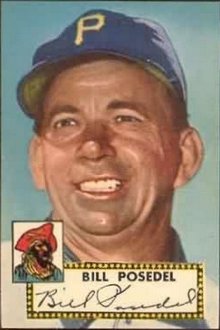 Posedel had a sore arm in 1941 and made just 18 appearances, nine of those in relief. At the time his Army classification was 3-A, but in January 1942 it was changed to 1-A, and Sailor Bill announced that he would rejoin the Navy rather than wait to be drafted by the Army.
Posedel was stationed at Mare Island Navy Yard near his home in Vallejo, California. He was soon playing baseball for the base team with teammate Cookie Lavagetto.
By July 1942, Posedel was pitching for the Treasure Island Navy Base team at San Francisco. Later in the year and for the remainder of the war, Posedel served as a chief of gun crews on merchant ships in the Pacific.
Posedel was back with the Braves in 1946. He was now 39 years old and had been in military service for four years. He made 19 relief appearances for Boston, posted a 2-0 won-loss record and was selected as the batting practice pitcher for the all-star game.
On December 6, 1946, Posedel was sold to Seattle in the Pacific Coast League. The following year he was signed as a scout for the Rocky Mountain area by the Pittsburgh Pirates, and then joined their coaching staff in 1949. He remained a major league coach until 1974 with the Cardinals, Phillies, Giants, Athletics and Padres. "He was credited with playing a big role in the development of an Oakland staff that helped the A's win World Series championships in 1972-73-74," wrote The Sporting News.
Bill Posedel passed away on November 28, 1989 in Livermore, California. He was 83 years old.
Created February 23, 2007. Updated April 13, 2007.
Copyright © 2007 Gary Bedingfield (Baseball in Wartime). All Rights Reserved.