Bob Porterfield
Date and Place of Birth: August 10, 1923 Newport, Virginia
Died: April 28, 1980 Sealy, Texas
Baseball Experience: Major League
Position: Pitcher
Rank: Corporal
Military Unit: 515th Parachute Infantry Regiment, 13th Airborne Division US Army
Area Served: European Theater of Operations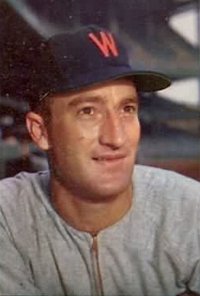 Edwin C "Bob" Porterfield was born on August 10, 1923 in Newport, Virginia. He was playing semi-pro baseball in Virginia when he entered military service with the Army in May 1943.
Porterfield concocted an elaborate story about combat jumps with the 82nd Airborne Division at the Battle of the Bulge, which were reported in many newspapers and other publications during his career. In reality, he spent most of his service time with the 13th Airborne Division who were sent to France in 1945, but were never in combat. Surprisingly, Porterfield only pitched for his regiment team and never for the Division team which featured Dave Koslo.
Corporal Portferfield was discharged from military service in January 1946 and signed with Radford of the Blue Ridge League in June. In 1948 he was 15-6 with Newark of the International League and joined the New York Yankees in August. He was 5-3 that year in 16 appearances. Struggling to break in to the Yankees' starting rotation, he was traded to the Washington Senators in June 1951 and had an outstanding season in 1953, winning 22 games with nine shutouts and a 3.35 ERA. It proved to be the peak of his career and although he was an American League all-star the following season he never won more than 13 games in a season after 1953.
Porterfield's major league career ended in 1959. He coached Syracuse in the International League during the 1960s and worked for the Westinghouse Corporation in Charlotte, North Carolina after retiring from baseball.
Bob Porterfield passed away on April 28, 1980 in Sealy, Texas. He was just 56 years old.
He was inducted in the Virginia Sports Hall of Fame in 2005.
Created May 27, 2007.
Copyright © 2007 Gary Bedingfield (Baseball in Wartime). All Rights Reserved.