Hugh Poland
Date and Place of Birth: January 19, 1913 Tompkinsville, Kentucky
Died: March 30, 1984 Guthrie, Kentucky
Baseball Experience: Major League
Position: Catcher
Rank: Unknown
Military Unit: US Army
Area Served: United States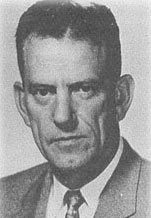 Hugh R Poland was born on January 19, 1913 in Tompkinsville, Kentucky. A graduate of Western Kentucky State Teachers College (now Western Kentucky University) earned nine varsity letters in the early 1930s, three each in football, basketball and baseball.
Torn ligaments and chipped bones in his right ankle, suffered while playing high school basketball, had kept Poland out of the service even though he had tried to enlist in the Navy.
Poland played in the American Association with Indianapolis and Columbus, and made his major league debut with the New York Giants on April 22, 1943. Five days later he was traded to the Boston Braves and played 44 games batting only .191 but doing a good job defensively behind the plate.
In 1944, he played just eight games for Boston and worked in the off-season as a foreman in the chemical warfare division of the Goodrich Rubber Company plant at Guthrie, Kentucky. In 1945, at an induction center in Louisville, Poland reported for a physical examination. He had the leg x-rayed and was questioned by a colonel. Poland explained that he played with the foot taped up and that was good enough for the colonel to declare him physically fit for military service.
Poland served at Fort Knox, Kentucky. He was back with the Braves in 1946.
Poland ended his playing career with the Cincinnati Reds in 1948. He later served as a scout in the Giants' organization.
Hugh Poland passed away on March 30, 1984 in Guthrie, Kentucky. He was 71 years old.
In 1994, Poland was inducted in the Western Kentucky University Athletics Hall of Fame.
Created May 27, 2007.
Copyright © 2007 Gary Bedingfield (Baseball in Wartime). All Rights Reserved.